Have you ever wondered what types of questions people "Ask a TRI Expert"? This series, brought to you by the Tile Roofing Institute, allows anyone to ask anything about tile roofing installation, maintenance, etc. The Tile Roofing Institute (TRI) is a non-profit association of producers and associates of concrete and clay tile and is considered one of the leading experts in the industry. Here's a recent question from a home inspector, and the response from TRI President and Technical Director, Rick Olson.
Question:
"I recently inspected a home in that was being sold by a real estate agent who was also the homeowner. There were a number of cracked concrete roof tiles that I observed. The buyer asked me what type of repairs needed to be performed and I told him the only acceptable repairs, according to the roof tile manufacturers, was to replace the broken tiles and that gluing them back together was considered only a temporary "patch." The homeowner/agent called me after "repairs" in the form of gluing the broken tiles back together was performed and was told by her licensed roofing contractor with 40 years of experience that this was a totally acceptable repair and now she is very upset with me telling the buyer otherwise. Thoughts?"
Response:
The repair of a broken tile is always an important topic to the roofing professional and does not have a one-size fits all answer. The key is to identify what the broken area represents. As the TRI, our members rely upon the formal codes and local building code official approvals to determine the appropriate steps for a minor repair. In the case of a broken corner that may be about 1-2", the use of a concrete compatible adhesive may be used. This practice is often used at the transitional flashing areas where a small piece of tile may be needed to complete the aesthetic look. The use of adhesives or wire will help hold the small piece in place. It is also used when a few tiles may have a small broken corner.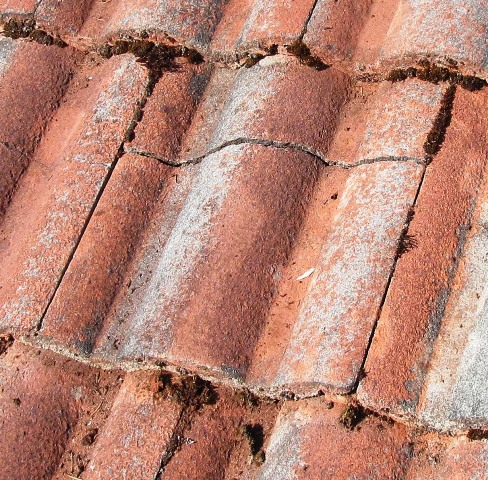 In the case where damage to the tile was created from a load or impact that has created a full vertical or horizontal break the entire width or length of the tile, the use of adhesive is not recommended. These tiles should be replaced. The benefit of concrete and clay tile installations is the ease with which broken tiles can be replaced. In many applications where battens are used, only the perimeter tiles are attached and therefore sliding the upslope course and lifting out the broken tiles will allow for their replacement. Even when tiles are fastened, the broken tiles can be easily removed and the replacement tile secured back in place without disrupting the balance of the roof. This will ensure the ability to return the roof to its pre-damaged conditioned.
For more information on the Tile Roofing Institute or to "Ask a TRI Expert", click here: http://tileroofing.org/resources/ask-expert/