Here at Eagle Roofing Products, relationships are the core of our business and we are always striving to be your company of choice. That's why we have made it simple for design professionals to learn more about concrete roof tile and specify our products for residential and commercial projects. Eagle Roofing Products offers product samples, CSI specifications, CAD Construction Details and hatch patterns all at the click of a button.
As an added resource, we recently partnered with Ron Blank and Associates and the American Institute of Architects (AIA) to become a registered provider with the AIA Continuing Education Systems (AIA/CES). We now offer an hour-long course called Concrete Roof Tiles – The Natural Choice for Durability and Sustainability that grants individuals with the opportunity to earn 1 AIA LU/Health Safety & Welfare (HSW) CE Hour upon completion.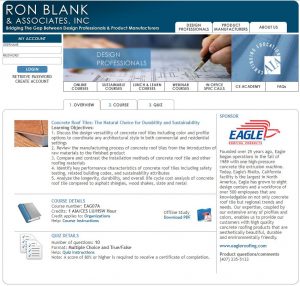 Created by Eagle Roofing Products' very own industry experts, Concrete Roof Tiles – The Natural Choice for Durability and Sustainability takes an in-depth look at design options, manufacturing and installation processes, testing and code compliance, as well as sustainable attributes and life cycle cost analysis of concrete roof tile.
This course serves as a great opportunity for design professionals to earn 1 AIA LU/HSW CE Hour one of two ways. Offered in-person via a Lunch & Learn presentation, the instructor-led program is typically held at a design firm where an Eagle Subject Matter Expert presents for 50 minutes, while the participants enjoy lunch, followed by a 10-minute Q&A forum. In addition, samples as well as informational materials are provided to further aid in specifying concrete roof tile on future projects. Also available to take at your leisure is an online version of the course that can be accessed by visiting: http://ronblank.com/cgi-bin/info.pl?action=course&id=286.
As a valued business partner, we're here to assist every step of the way! If you are interested in learning more about the CE course or would like to set up a future Lunch and Learn for your firm, simply contact your local Eagle Account Representative.