If you travel down almost any residential street throughout the United States, you will see multiple homes roofed with asphalt shingles. Although they are fairly new to the building industry compared to other roofing options, they are the most commonly used material for residential roofs. However, "most popular" doesn't necessarily translate to "best option."
Asphalt shingles gained their popularity due to their perceived affordability. As it turns out, what makes them so affordable is actually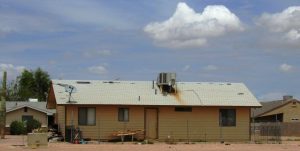 their downfall. The thin, lightweight material, either fiberglass or a paper fiber mat, that they are made of is prone to weathering issues. Depending on the region of a home, asphalt shingles can prematurely dry out, lose granules, crack, and deteriorate. This can lead to roof leaks and water damage within the underlying layers of the roof all within 10 to 15 years of its supposed 30-year lifespan. The image on the right displays what an asphalt shingle roofs looks like after 25 years. It is faded and deteriorating, appears to be missing a few shingles and is in desperate need of a replacement.
On the other hand, there are roofing materials that have been used on structures around the globe for centuries and have proven their durability, such as concrete tile roofs. When installed properly, concrete tile roofs, such as those manufactured by Eagle Roofing Products, can withstand the harshest of elements including wind gusts of up to 180mph, damage from hail stones up to 2", exceed freeze/thaw climate requirements and are fire resistant. The image below shows a neighborhood with 25-year old concrete tile roofs. The roofs look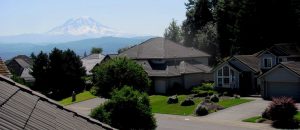 much different than the one shown above with asphalt shingles, even though they were both installed 25 years ago.  As you can see, the concrete tile roofs remain aesthetically beautiful, structurally sound and are certainly in no need of a roof replacement any time soon.
Once the actual lifespan, number of reroofs and cost of tile vs. shingles are taken into consideration, concrete roof tiles becomes a significantly cheaper option. So next time you're in the market for a new roof, consider choosing one that will provide long-term benefits of affordability, curb appeal and durability. Consider choosing a concrete tile roof.
For more information regarding concrete tile roofs and their benefits, visit https://eagleroofing.eagl.staging.findsomewinmore.com/why-tile.