For centuries, tile roofs have withheld a reputation as the most durable, timeless roofing material available. Concrete roof tiles in particular take these benefits a step further in their design capabilities, testing and sustainability. Let's take a look at just how beneficial selecting a concrete tile roof can be!
Design
Concrete roof tiles are available in a wide variety of colors. In fact, concrete roof tile manufacturers such as Eagle Roofing Products offer over 150 color options. From monochromatic hues, to light and dark ranges, to multi-colored blends, selecting concrete roof tiles as your material of choice makes it easy to coordinate your roof with any exterior color palette.
They are also offered in a multitude of profiles – emulating clay, wood shakes and natural slate – to match any architectural style. This makes the selection process easy for any new construction or reroof project.
Durability
Concrete tile roofs have the lowest life cycle cost of any other roofing material, are Class A fire rated and, in most cases, can meet up to a Class 4 hail rating as described in FM 4473. When properly installed, they can withstand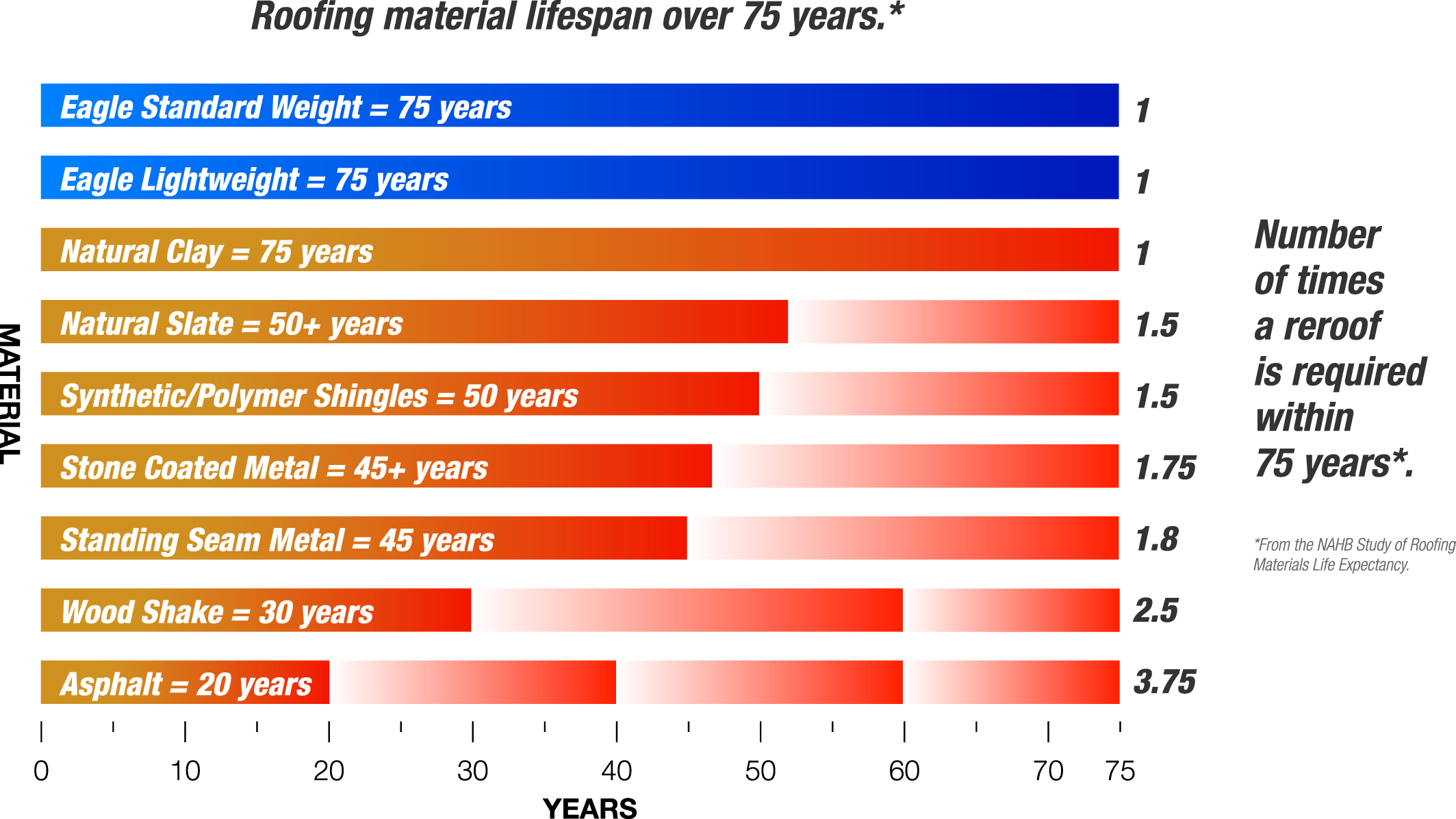 sustained wind speeds up to 180mph and offer an added layer of built-in protection as the tile itself provides a tough, water shedding outer shell with the underlayment working as an extra shield.
Green Building
With such low life cycle costs, concrete roof tiles are able to meet LEED requirements. They are also environmentally friendly as they are produced without the worry of depleting limited natural resources, are fully recyclable and do not contain chemical preservatives.
According to independent testing performed at the Department of Energy's Oak Ridge National Laboratory, concrete roof tiles are highly reflective and have the ability to cut the transfer of heat compared to other roofing materials, such as asphalt shingles, by up to 50%. They also facilitate natural air ventilation that creates a heat transfer barrier, providing the benefit of a cooler house in the summer and a warmer house in the winter, as well as lower heating and cooling costs.
To conclude, concrete roof tiles are manufactured to meet any architectural need, are able to withstand the harshest of weather conditions when installed properly, and possess inherent benefits that other common roofing materials, such as metal and asphalt shingles, do not. So, if you're in the market for a new roof, choose one that can withstand the tests of time while remaining aesthetically stunning; choose a concrete tile roof!
For more information regarding concrete tile roofs and Eagle Roofing Products, visit the Why Tile? page or contact your local Eagle Account Representative.