Here at Eagle Roofing Products, we understand the importance of our customers and partners remaining up-to-date on the latest industry trends and products Eagle has to offer. That's why we have filled our 2019 calendar with 10 strategically selected trade shows located throughout the United States and Canada to exhibit at, which can be viewed below.
International Roofing Expo in Nashville, TN – February 11-13, 2019
International Builders' Show in Las Vegas, NV – February 19-21, 2019
Calgary Home & Garden Show in Calgary, AB – February 28- March 3, 2019
RCI International Convention & Trade Show in Orlando, FL – March 14-19, 2019
Edmonton Home & Garden Show in Edmonton, AB – March 21-24, 2019
Pacific Coast Builders' Conference in San Francisco, CA – May 30-31, 2019
American Institute of Architects Expo in Las Vegas, NV – June 6-8, 2019
Western Roofing Expo in Las Vegas, NV – June 9-11, 2019
Florida Roofing & Sheet Metal Expo in Kissimmee, FL – July 17-19, 2019
Southeast Builders' Conference in Kissimmee, FL – August 1-2, 2019
Whether you are hoping to establish a new relationship with Eagle or plan to strengthen an existing one, stopping by our booth at one of the trade shows will give you the opportunity to speak one-on-one with our knowledgeable Account Representatives and leadership staff and learn about our products – new and existing. It's also a great way to experience our company culture, provide us with any feedback you may have regarding our products and/or services and let us know how we can better serve you.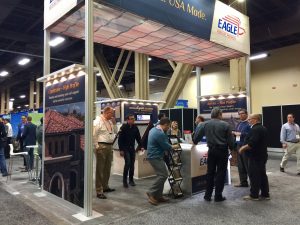 This year, there will be a new interactive booth feature*, as well as the launch and display of several new products. Informational flyers, regional product brochures and full-piece tile displays will all be readily available, along with some complimentary Eagle branded goodies.
If you're interested in attending one of these industry events, be sure to reach out to your local Eagle Account Representative as there may be a FREE exhibitor guest pass available. We hope to see you there!
*Only at select trade shows.