Have you ever noticed a round tower-like feature on a home and wondered what exactly it is? That architectural design element is a turret.
Dating back to the Medieval era, a turret is a small tower, typically circular in shape, that projects vertically from the wall of a building. They were an important element of castles as they provided those inside with a 360-degree view; perfect for viewing the enemy below while being under cover. Now, as their military use has faded, turrets have evolved into a decorative exterior accessory for homes of distinction. Less of a prominent and towering feature than they were centuries ago, turrets provide an added component of curb appeal and charm.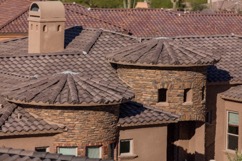 While often seen on romantic, Victorian style homes that encompass elaborate painted trim, ornate windows and wood siding, turrets are now being used on new-builds of various architectural types – even Spanish and French Country. The look can be achieved with either a barrel concrete roof tile, such as Eagle Roofing Products' Capistrano profile, or a flat tile, like Eagle's Bel Air tile, depending on your home's style.
If you would like to incorporate a turret into your new-build's architectural plans, be sure to consult with your builder and/or roofing contractor first as it may result in added installation and material costs.
For more information on turrets and Eagle concrete roof tile, contact your local Eagle Account Representative.