With design trends constantly evolving, one popular home style that is gaining momentum is that of contemporary and modern inspired architecture. Each has its own notable characteristics but one thing that they have in common is that they often feature a roofing material that has a flat silhouette. A perfect complement that will make all the difference, both visually and structurally, for these types of structures is a concrete tile roof. Contrary to popular belief, concrete roof tile no longer limits you to a traditional barrel profile. Instead when it comes to your new and updated roof, Eagle offers an excellent option in our Bel Air profile to match the dwelling's architectural style alongside your personal taste.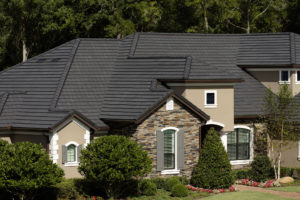 Bel Air is Eagle's most prominent flat roof tile, measuring 17 inches long and 12 3/8 inches wide. This profile features a smooth surface that includes precisely cut clean lines to offer modern elegance to a variety of architectural styles while also providing the inherent benefits that concrete tile offers, such as enhanced longevity and durability. A simple yet elegant feel, this product allows you to incorporate various exterior elements to the residence, such as pavers, stonework, and landscaping to create a stunning and well-rounded property.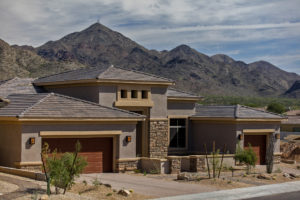 Bel Air's favored colors skew heavily toward the gray and brown families due to their natural compatibility with the aforementioned materials and elements. A neutral shade like 4591 Dark Gray Range, or warm hue such as 4743 Cocoa Range, highlights the sleek look of the profile. In addition, an earth toned flat tile allows homeowners and designers the ability to utilize a wide variety of palettes for the building's base, accent, trim, paver, and door paint colors.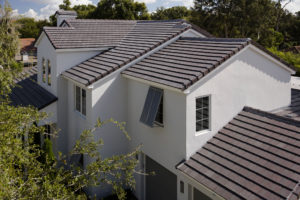 Besides contemporary and modern homes, a Bel Air concrete tile roof pairs beautifully with other residential designs, such as Midcentury modern, Transitional, Florida Style, and Ranch. Alternatives that may complement a sleek flat tile also include Tudor and Bungalow styles if you seek an uncommon yet original twist to your house.
Interested in selecting our Bel Air profile for your upcoming roofing project? Contact your local Eagle Account Representative or begin your browsing online today!