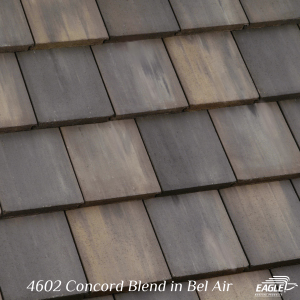 When deciding on the best concrete roof tile for your next residential or commercial project, the possibilities are endless as Eagle offers a variety of profiles to complement both traditional and modern architecture. If you're seeking a more contemporary vibe, a flat tile's classic finish will provide a crisp and beautifying appearance to your structure. To achieve such a look, we recommend our Bel Air or Double Eagle Bel Air profile. Maximize your curb appeal by understanding the design differences between these two products, before making your decision.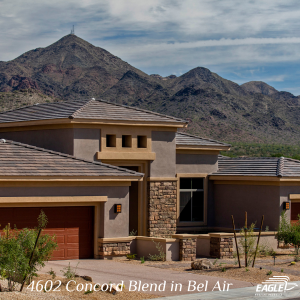 Bel Air
Eagle's most popular flat tile, Bel Air, is a sleek and svelte profile that oozes elegance with the simplicity of its design. The smooth surface and clean lines provide versatility in pairing with all architectural styles. This shape also allows you to go heavier on other decorative elements such as pavers, stonework, brick, stucco, landscaping and so much more. Depending on the look you are after, the choices are infinite as we offer an extensive collection of colors to choose from. Whether you desire nature-inspired ranges or prefer a vivacious blend of pigment, rest assured that this profile will create a harmonious aesthetic for your exterior.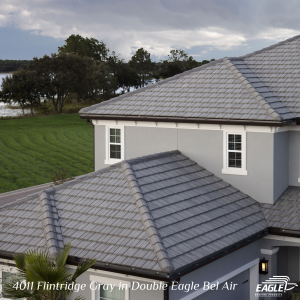 *Double Eagle Bel Air
On the other hand, with Double Eagle Bel Air – it's all in the details. Similar to Bel Air, this profile has a smooth surface, however it's coupled with a split tile appearance that offers subtle differentiation and depth to an otherwise classic look. The polished tile's slight texture seemingly provides additional dimension to the roofscape, enhancing the overall exterior. While its counter product offers a plethora of colorway options, the Double Eagle Bel Air style calls for more neutral and muted earth tones, such as natural grays, tans and browns. No matter the color, this profile is suitable to any residence for a distinctive yet visually appealing style.
Whether you're after a modern and contemporary fix or are looking for something similar with a touch of variation, either of the aforementioned profiles will allow your unique preferences to shine through.
For more design inspiration or style tips, visit our Pinterest page or Design Corner Blog located on our website!
*Double Eagle Bel Air is not available in all regions.