A New Year calls for new traditions! In case you missed it, we recently announced our first ever Color of the Year, a new ongoing series! As our first ever installment, our team understood the importance of selecting a product that encapsulated the best that Eagle has to offer. The inaugural pick had to be incredibly versatile, have wide availability, evoke a sense of premium quality as well as be a top design trend. Without further ado, the color that ticked off all the boxes this year is Brown Gray Range!
Residing at the intersection of Sophistication Ave. and Nature Blvd., Brown Gray Range conjures feelings of luxuriousness and modernity while paying homage to the natural world. Featuring a soothing blend of warm mocha hues and deep charcoals, the color commands attention offering up some serious curb appeal. The versatility of the tile's dual earth tone hues allows homeowners and designers alike to lean into either color, opening the door to a myriad of exterior color scheme possibilities.
In addition to the product's adaptable hues, Brown Gray Range is available nationwide in a variety of profiles. From our grandiose barrel shapes to our emulated wood shake lines, we offer the perfect silhouette to match your home's personality, no matter the building's architectural style.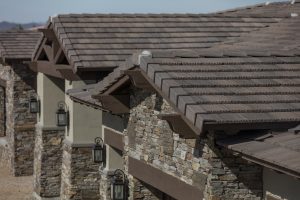 While incredibly versatile, Brown Gray Range is also extremely popular thanks to the product's aforementioned shades of java and ash. Over the last several years, natural shades have become increasingly prevalent in the design world and the major paint companies have taken note. This is because, according to Director of Color Marketing at Sherwin-Williams, Sue Wadden: "People want their homes to feel safe and restorative, and earth tones help achieve that feeling." Experts in the industry agree that neutral, earthy colors will continue to remain uber popular for many years to come.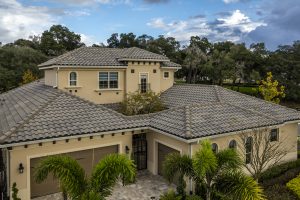 Should you select Brown Gray Range to adorn your home, you can rest assured you're choosing a chic, luxurious, and versatile roofing material that will provide superior protection for your abode for years to come!
Explore our inaugural Color of the Year even further by visiting our web page or order a sample by contacting your nearest Eagle Design Center.