Whether you celebrate the Luck O' the Irish or deem yourself pinch proof, what better way to commemorate St. Patrick's Day than with Celtic-inspired palettes galore? In the spirit of the holiday, check out these three shamrockin' green exterior color schemes that will pair beautifully with your concrete tile roof and enhance curb appeal year-round.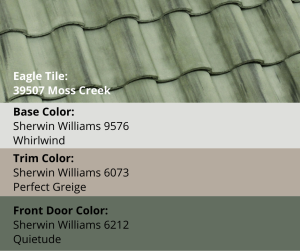 *39507 Moss Creek in Capistrano
If your next residential or commercial project calls for an eccentric look, 39507 Moss Creek in Eagle's Capistrano profile is an ideal choice with its green hues and dark streaks. Perfect for a beachy abode or ecclectic cottage, this tile complements several neutrals such as creams, beiges or grays – like Sherwin Williams 9576 Whirlwind – for the exterior. To offset the cool tone, a shade similar to 6073 Perfect Greige would provide balanced contrast to the trim of the structure while another forest accent, like Sherwin Williams 6212 Quietude, would tie in with the streaking, seamlessly pulling the overall nature-inspired aesthetic together.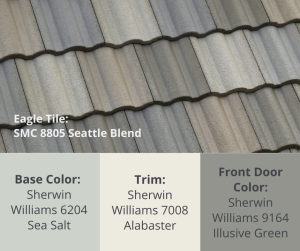 *SCM 8805 Seattle Blend in Malibu
On the other hand, you may fancy a bold scheme but with a more subdued roofscape than Moss Creek. SCM 8805 Seattle Blend is a lovely option as the combination of green, taupe and gray perfectly encapsulate the Mediterranean vibe of our Malibu profile. For the building's base, a dazzling shade like Sherwin Williams 6204 Sea Salt offers a muted mint tinge that pairs gorgeously with the tile. As for the trim, Sherwin Williams 7008 Alabaster is one of the paint company's most popular and natural choices, and is sure to match a plethora of other pigments. A subtle olive such as Sherwin Williams 9164 Illusive Green would provide a pop of deep color for the front door and shutters, thus bringing together this misty yet elegant aura.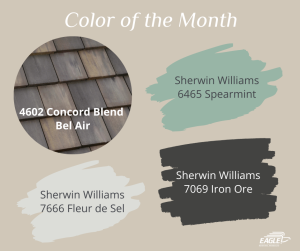 4602 Concord Blend in Bel Air
A striking mixture of charcoal and tan, 4602 Concord Blend is Eagle's Color of the Month for March and pairs beautifully with a variety of earth tones as well as green hues. Modernize any dwelling with our flat and sleek Bel Air profile while opting for a crisp exterior in Sherwin Williams 7666 Fleur de Sel as the cool off-white tone provides a stark contrast against the dark tile. Trim the structure with Sherwin Williams 7069 Iron Ore – which just so happens to be their Color of the Month for March as well! A great look for rustic or earthy architecture, this deep tint offers a warm and welcoming style. Lastly, gloss your front door or any other accents with Sherwin Williams 6465 Spearmint. The mellow jade shade complements the neturals in both the palette and tile while providing a fresh splash of color.
No matter your vision, the enchantment of green is on trend for years to come – just ask any of the major paint companies design forecasts! For more style tips and inspiration, contact your local Eagle Design Center to order a tile sample or visit our website to browse all color offerings!
*Not available in all profiles and regions.