If you're in the market for a new concrete tile roof, there's a chance you may have a few questions. Get all the answers to the most frequently asked questions regarding concrete roof tile, as well as some you may not have thought of, below.
What is concrete roof tile made out of?
Concrete roof tile is made from four natural products: sand, cement, water and iron oxide.
Why should I choose concrete roof tile over the common roofing material – asphalt shingles?
Concrete roof tiles offer an array benefits that asphalt shingles simply cannot provide. For example, concrete roof tiles have the ability to last the life of a structure, are Class A fire resistant and tested to the highest of standards to withstand the harshest of weather conditions. Also, due to concrete roof tile's materials and installation methods, they do not absorb heat like asphalt shingles do. Instead, the heat is reflected back into the atmosphere and the air flow between the tiles and the roof serve as an insulator. The materials that concrete roof tiles are made of are also eco-friendly and recyclable. Asphalt shingles consist of lesser eco-friendly petroleum-based product that is not recyclable and often end up in landfills. In addition, the exterior possibilities available with asphalt shingles are limited. When choosing concrete roof tiles, you are presented with a wide range of colors and profiles that meet any exterior design need.
Do the tiles fade?
For color through tiles, meaning pigment is added to the concrete roof tile mixture during manufacturing, the pigment will last indefinitely. Varying degrees of color softening may occur after extended exposure to the elements. However, this occurs to a lesser degree with roof tile than with most other roofing materials.
How does concrete roof tile perform in areas of the country susceptible to freeze/thaw conditions?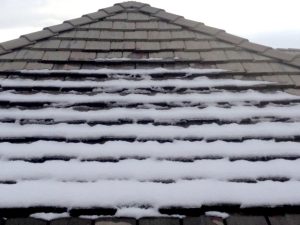 All concrete roof tiles, excluding color bonded/slurry tiles, adhere to the freeze-thaw requirements set forth throughout the country. This is due to the insusceptibility of the tile to hold moisture and freeze within the body of the tile. Also, the tile has a naturally occurring air pocket between the underside of the tile and the roof sheathing that, when installed and ventilated correctly, minimize ice damming, as well as tile expansion and contraction due to changes in temperature.
Is there a warranty offered on concrete roof tile?
Every concrete roof tile manufacturer offers some type of warranty on their product but each is different. For example, Eagle offers a Limited Transferrable Lifetime Warranty, which includes manufacturing defects of the tile. Be sure to obtain warranty specifics from each of your contending manufacturers before making your decision. You'll want to choose the best available warranty for you and your project.
Can I walk on my tile roof?
To prevent any possible damage or danger with walking on a tile roof, it is recommended that you contact a licensed, bonded and insured roofing professional to perform any roof inspections or cleaning you may need. To find a tile roofing professional in your area, visit Tile Roofing Institute.
What's the best method for cleaning a tile roof?

If desired, it is suggested that a licensed, bonded and insured roofing professional or cleaning company be used to clean your roof. To remove dirt, algae or mildew from the roof surface, a pressure cleaner set at a maximum of 1200 psi should be used and the tip of the nozzle should remain 12-24 inches away from the tile. The addition of a mildew inhibiting solution should be limited to a 90 percent water, 10 percent solution ratio. Keep in mind that any dirt, algae or moss that may grow on the surface of the roof tiles is not affecting the condition of the tiles or their ability to protect the structure.
Can I have concrete roof tile installed on my home or business? I'm concerned concrete roof tile is too heavy.
Most modern day commercial or quality residential structures require little or no additional bracing. Additional costs, if any, to support tiles are usually an extremely small portion of the total project. An engineer can determine if the structure is capable of supporting the weight, or may recommend methods for reinforcement.
How much does a tile roof cost? 
The cost of a concrete tile roof varies depending on the manufacturer. As a general rule, concrete tile roofs cost much less than slate, about two times more than wood shakes, and approximately three times more than heavy weight asphalt shingles. It is important to keep concrete roof tiles' superior sustainability in mind when deciding upon your roofing material. Concrete roof tiles outlast most other roofing materials and are also incredibly durable. When choosing an asphalt shingle roof, a roof replacement will have to be done every 20 years due to deterioration of the materials, whereas with a concrete tile roof, it will last the life of the structure. Concrete tile roofs can also withstand the most severe weather conditions and their superior aesthetics increase the value of any structure.
LEARN MORE
If you have additional questions about concrete roof tile or would like to obtain a sample, feel free to contact us!