Create Hatch Patterns of any Eagle Concrete Roof Tile Profile
Eagle Roofing Products has partnered with ARCAT to provide FREE hatch patterns for your residential or commercial CAD design projects. You can find beautiful hatch patterns of our concrete roof tile, as well as the components used to create a durable and long-lasting roof system.

Download Eagle Hatch Patterns
Access Hatch Patterns and SuperHatch Blocks for all of our profiles on Arcat.com. Complete drawings can easily be downloaded.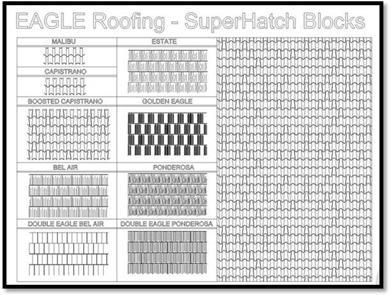 Specifying Eagle Tile is easy with: BIM, Hatch Patterns, SuperHatch Blocks, CSI & Spec Wizard, CAD Design Details and more.

See Eagle Roofing Products at: