The Best Ventilation for Tile Roofs

While a tile roof is fundamently air permeamable, proper and functional attic ventilation is key in removing heat, which can increase your energy bills. Eagle Roofing Products has partnered with O'Hagin, Inc. to provide our customers with top quality, state-of-the art attic ventilation solutions that perfectly complement our concrete tile roofs.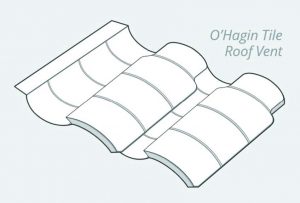 A core component of Eagle's Ventilated Roof System, O'Hagin Tile Roof Vents provide maximum airflow without detracting from the aesthetics of the tile and overall roof design.
O'Hagin patented attic vents are available to match all Eagle tile profiles
and are designed as a two-piece system, a primary vent (subflashing) and a
profile-specific secondary vent (cover), which blends into the surrounding field tile. They are manufactured with a standard finish 26-gauge galvanized steel (20-year warranty), .032 aluminum, or 16 oz. copper (50-year warranty).
The benefits of applying O'Hagin Vents to your Eagle tile roof includes:
Extending the roof's life: Ventilation protects attic insulation and rafter cavities from moisture, thereby reducing the risk of mold and dry rot.

Maintaining curb appeal: When painted to match, O'Hagin attic ventilation systems blend into surrounding roof material.

Enhancing above-sheathing ventilation (ASV): Increases airflow and can increase energy savings in cool roof systems.

Conserving energy: O'Hagin vents are completely passive, reducing energy costs related to heating and cooling.

Removal of trapped gases: Proper attic ventilation facilitates the removal of hot, trapped gases and fumes, a
major cause of indoor air pollution, allergies and related health problems.

Reducing moisture buildup: Proper attic ventilation reduces moisture build up from indoor water sources and
condensation that occurs naturally in the attic space.

Flame, ember, rain and snow resistant: Quantified by independent laboratory testing and report.
For more information about O'Hagin Roof Vents, contact your local Eagle Account Representative or call O'Hagin's Customer Service Team at (877) 324-0444 for complete step-by-step installation instructions.
Contact Us
Examples of Roof Vent Installations
O'Hagin Installation Video with Eagle's Arched Battens and Flat Concrete Roof Tile Profile
Warranty for O'Hagin Vents comes directly from the manufacturer and not from Eagle Roofing Products.
For product and warranty information, visit:
ohagin.com