Whether you're deciding on a concrete tile roof for your newly constructed residential or commercial project, or reroofing an existing one, a roof is a big investment. That's why it's important to shop around and explore your options to ensure you are selecting the concrete roof tile manufacturer that meets your needs. Below, you will find answers to Eagle Roofing Products-specific frequently asked questions to better assist you in this decision process. 
What are some advantages of buying a concrete tile roof from Eagle Roofing Products?
Eagle was founded in 1989 and is the largest family owned, American Made concrete roof tile manufacturer in the country. We are the only manufacturer that offers a Lifetime Transferrable Limited Product Warranty with a 25-year labor warranty* should our tile fail. We proudly offer unbeatable customer service to our customers and partners and offer the largest color offering in the industry with over 140 tile colors available. Eagle also adheres to higher material standards than the industry standard of a 4:1 mixture. The Eagle Standard is a 3:1 mixture meaning there is more cement per tile, making it stronger than our competitors.
*Please read full warranty disclosure.
What is the difference between Eagle's Standard Select and Designer Select concrete roof tiles?
All tiles are manufactured to uphold Eagle's highest quality control standards and withstand the harshest of weather conditions. Eagle tiles are Class A fire rated, tested and approved to withstand wind speeds of up to 180mph, hail/impact tested, and offer freeze/thaw protection. The difference between the two categories is within the color of the tile. Designer Select tiles are made with white cement and/or require more coloring to produce the rich, bright hues found in these blends.
Can I create a custom blend?
Yes, you may add solid colors to blends that we already offer or combine two offered blends to create a Signature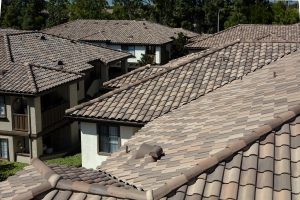 Blend of Blend. However, you may not take out any color from our blends and replace it with another color. The blends we manufacture come as is. It is important to keep in mind that the blends do not come prepackaged or preblended and your roofing contractor is responsible for blending the colors during the loading of a roof to create the Signature Blend of Blend. Eagle Roofing Products recommends that you discuss any customization with your roofing contractor, prior to installation, to ensure that you achieve your desired look.
What is the difference between a color range and a blend?
Eagle has over 140 concrete roof tile colors to choose from. Among those colors, you will find ranges and blends. With ranges, the tile colors are in the same color family and there will be a subtle range of color throughout the roof. On the other hand, blends consist of three to six different colors that, together, make up an entire roof of blended colors.
Do you have installation photos of the profiles and tile colors available in my region?
Eagle has installation photos of our concrete roof tile colors and profiles available to better assist you during your roof selection process. We can also provide job site addresses for you to look at tile installations in person. Contact your regional Eagle Design Center Coordinator or Account Representative for more information.
How much does an Eagle concrete roof tile cost? 
Depending on your region and the category of tile you choose, the price of the concrete roof tile varies. However, Eagle does not sell directly to consumers, so the best source of pricing will be from your roofing contractor or distributor.
Where can I purchase Eagle concrete roof tile?
Eagle Roofing Products only sells product through distributors; not directly to consumers. If you wish to purchase concrete roof tile, a roofing contractor can place the order through a distributor. A local Eagle Account Representative can further assist with this process.
LEARN MORE
For more information about Eagle Roofing Products or to view our complete product offering for your region, visit our website at www.eagleroofing.com.