The season of summer is finally here. That means school is out, vacations are underway and outside temperatures are on the rise! You may start to notice an increase in your energy costs, as well. Unfortunately, there's no changing the harsh heat of summer, but there is a way to change how your residential or commercial property responds to it. Trade out your old, heat trap of a roof for a cool, tile roof!
A Cool Roof is a roof that has been designed to reflect more sunlight and absorb less heat than a standard, conventional roof. According to the U.S. Department of Energy, a conventional roof without inherent cooling properties can reach temperatures up to 50°F hotter than the actual temperature outside. That means your roof can easily heat up to 150°F throughout the duration of a typical 90°F summer day. With a Cool Roof, such as an Eagle Roofing Products' concrete tile roof, the difference between the temperature outside and the temperature of the roof will only be 5 to 10°F.
Concrete roof tiles are able to remain cool due to their inherent reflective properties. The tiles are able to reflect sunlight and, instead of absorbing that heat and transferring it down from the roof deck into the structure, they release the heat for greater energy efficiency.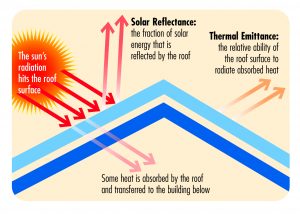 While color does play a part in the reflectivity value of a tile, it does not mean there aren't darker colored tiles that adhere to the Cool Roof standards. The tiles, regardless of the color, are tested for solar reflectance (SR) – fraction of sun energy reflected by roof – and the thermal emittance (TE) – ability of roof surface to release/emit absorbed heat. These "coolness" values are rated on a decimal scale from 0 to 1; the closer the value is to 1, the higher its reflectivity is towards the sun. These values are provided by the Cool Roof Rating Council (CRRC), which administers a Rating Program for companies, like Eagle Roofing Products, to have their products tested and appropriately labeled with radiative property values.
By upgrading to a Cool Roof, you could save 10 to 30 percent annually on energy costs, as well as decrease your overall roof temperature. This can result in added years to the overall life of your roof. So, start saving on energy costs and stay cool for many summers to come with your new Cool Roof!    
Take a look at Eagle Roofing Products' CRRC rated concrete roof tiles, along with all of our other product offerings, by visiting https://eagleroofing.eagl.staging.findsomewinmore.com/browse-tile/.