If you are currently building a new home or renovating an existing one that reflects Spanish style architecture, don't think you have to choose a clay tile roof to achieve a genuine Old World look. You can easily emulate this gorgeous design effect without the premium cost of clay by choosing Eagle Roofing Product's Boosted Capistrano Accessories!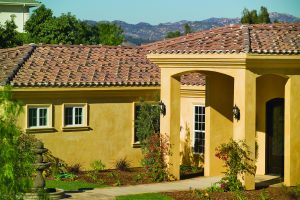 The first step in the process is to choose your base Capistrano field tile. This will be the tile color that is used throughout the entire roof. Choose from either a monochromatic color, a range or a blend. You will then select from any of our select Boosted colors to complement the field tile chosen. The colors available will vary depending on your region. For best results, it is recommended that you mix your Boosted color and base color. This will add a look of authenticity to your roof, as well as accentuate desired tones.
Once your colors have been selected, it's time to decide how much boost you would like to add – 10 percent, 20 percent, or 30 percent. You will also need to decide if you prefer a neat mortar treatment, or a more authentic look with exposed, heavy mortar. Be sure to discuss the overall look of your Boosted Capistrano roof with your certified and bonded roofing contractor, prior to installation, to ensure that your desired look is achieved.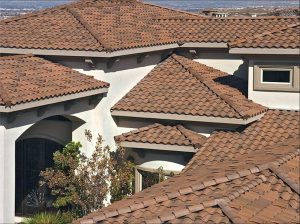 This application will give your Spanish style home the touches of Old World charm that you've been looking for, all while benefiting from the durability, longevity and energy efficiency of your new concrete tile roof.
For more information on Eagle's Boosted Capistrano accessories or to view the colors available in our Capistrano profile in your region, please contact your local Eagle Account Representative.