If you're in the market for a new roof and are considering choosing a flat concrete roof tile profile, you may want to explore the idea of a staggered installation. This is a great way to give your home an Old World feel and give a unique appearance to your exterior.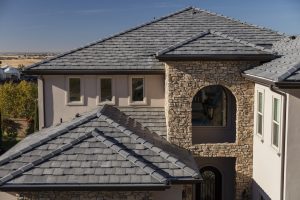 First, you'll need to determine what look you're trying to achieve with your home. Be sure to take the architectural style and color into consideration. If a slate-like roof is what you're after, try Eagle Roofing Products' flat Bel Air, Textured or Tapered Slate concrete roof tile profiles. The simplicity and beauty of these profiles paired with the staggered exposure mirrors the natural, rock-like appearance of slate tiles that often vary in length. Using concrete roof tiles to emulate this look is far more cost effective than slate, provides energy cost savings and weighs much less, so your chances of needing to have your roof reinforced is not as likely.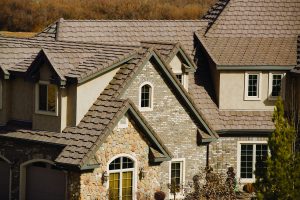 The staggered application is also an option to consider if you are creating more of a rustic, cedar wood shake look for your home. Eagle Roofing Products' flat textured profiles, Golden Eagle or Ponderosa, provide a natural wood grain appearance without the durability and longevity downfalls that coincide with authentic wood shakes. This charming roof style pairs nicely with homes that reflect Cottage, Lodge or Tudor architectural characteristics.
Once you have decided upon the overall look for your exterior and feel that a staggered installation would be the perfect final touch, consult with your professional roofing contractor. It is important to discuss this option prior to having the tiles ordered and installed since the roofing contractor is ultimately responsible for the planning, layout and proper installation of the tile. Communication between you and your roofing contractor is key to creating a beautiful, unique look for your home.
For more information on staggered installations or to view the colors available in our flat concrete roof tile profiles in your region, please contact your local Eagle Account Representative.