From natural materials like clay and concrete to manmade products such as asphalt and metal, there are a variety of roofing materials to choose from for your residential or commercial structure. While each has its advantages and drawbacks, they all can add a distinctive design element to your exterior. Let's find out which option works best for you!
Concrete Roof Tiles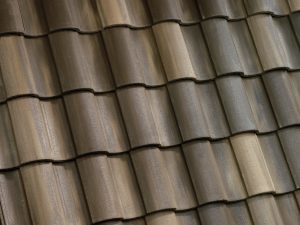 Materials: Concrete roof tiles are

made

from a natural mixture of cement, sand, water, and oxide.

Appearance: They are shaped and molded to resemble styles of traditional clay, wood shake, and slate. Concrete roof tile manufacturer

Eagle Roofing Products

offers over 170 colors and 10 different profiles to choose from, complementing all types of architecture.
Eco-friendliness & Energy Efficiency: Due to their natural ingredients, concrete roof tiles are easily recyclable. Their inherent reflective properties also allows the tiles to reflect sunlight and release heat for greater energy efficiency, instead of absorbing it and transferring it from the roof deck and into the structure.
Durability: Concrete roof tiles can resist the harshest of weather conditions and are known to stand as long as the structure it's supporting. In fact, concrete tile roofs are fire resistant, can withstand wind speeds of up to 180mph, are hail/impact resistant and offer freeze-thaw protection, depending on the manufacturer.
Clay Tile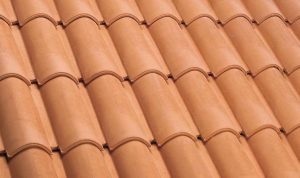 Materials: Clay tiles are molded from natural pulverized clay and water.
Appearance: Natural clay tile comes in many shapes, sizes and colors; however, they often lack profile/shape variation and are limited to the high-barrel look. They are typically paired with Spanish or Mediterranean architectural styles.
Eco-friendliness & Energy Efficiency: Most clay tiles are made with natural, recycled materials. At the end of a clay roof's lifespan, 100 percent of the materials can be reused and recycled. While clay tiles do possess inherent cooling properties, they do mature to a darker, richer shade over time which can decrease energy efficiency.
Durability: Clay roof tiles have been used for centuries, proving their outlasting durability. They are also wind, hail and fire resistant, but the tiles are susceptible to breakage with heavy roof traffic. 
Asphalt Shingles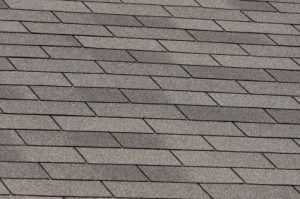 Materials: Asphalt shingles are made of either fiberglass or a paper fiber mat.
Appearance: There is not much flexibility in design with asphalt shingles as they typically come in flat, non-dimensional sheet mats. Color choices, however, are becoming more varied. Shingles are now manufactured in tones ranging from pale gray, medium gray and dark gray to beige, reddish and medium brown to dark brown, plus shades of blue and blue green.
Eco-friendliness & Energy Efficiency: Asphalt shingles are made up of a petroleum-based product that is not recyclable and ends up being dumped into landfills. Also, since asphalt shingles are installed directly onto the roof with no room for airflow, the heat from the sun raises the temperature of the attic resulting in higher energy bills.
Durability: Throughout time, asphalt shingles will begin to dry out, lose granules, crack, and the adhesive tabs will begin to deteriorate. They can also be highly affected by climate and environmental factors such as fluctuating temperatures, damp climates and extreme weather. This can reduce the lifespan of an asphalt shingle roof significantly.
Metal Roofs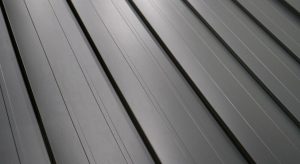 Materials: Metal roofs consist of either aluminum, steel, or copper.
Appearance: Metal roofs are not just silver and flat; they are now being manufactured to mimic other roofing materials such as wood shake, asphalt shingles and slate. However, the metallic look can offset the authenticity of these renditions and the overall design.
Eco-friendliness & Energy Efficiency: These roofs can be made up of anywhere between 25 and 95 percentrecycled content, depending on the material used, and are also 100% recyclable at the end of their life span. Metal roofs are also highly reflective, which reduces the amount of heat penetrating the home from the sun.
Durability: Roofs made of aluminum will not rust and can last over 50 years, but lower grades are susceptible to denting. While this not compromise the roof system's integrity, it can be aesthetically unpleasing. Metal is also and noncombustible material, giving metal roofs a Class A fire rating.
After reviewing the key points of each roofing material listed, you are one step closer to making your decision in choosing the roofing material that works best for your project needs.
Interested in choosing concrete roof tile, but need more information? Discover how clay tiles, asphalt shingles, metal and slate compare at www.eagleroofing.com.