Concrete roof tiles have been a popular roofing material for centuries, adding aesthetic appeal and protection to the structures they are installed upon. Over the years, however, a few misleading myths have circulated, deterring some homeowners from selecting the product for their home. So, we're putting a stop to those common myths by providing the facts!   
Myth #1: Algae and mold are harmful to roof tiles.
False. Mold, mildew and/or algae growth is completely normal and in no way affects the integrity of a concrete tile roof. The growth does not occur directly on the tile and is actually caused by the amassing of dust and other organic materials that settle on the tile's surface. When moisture and sunlight are present, algae and mildew spores can form but not always. Many variables play a role in this process including the location of the structure, exposure to the sun, exposure to dew, surrounding trees and nearby bodies of water. Fortunately, mildew, mold and algae can be easily removed or treated without compromising the fundamental benefits and aesthetics of the concrete tile. If you decide to have your tile roof cleaned, it is recommended that you hire an insured and bonded roofing contractor to do so.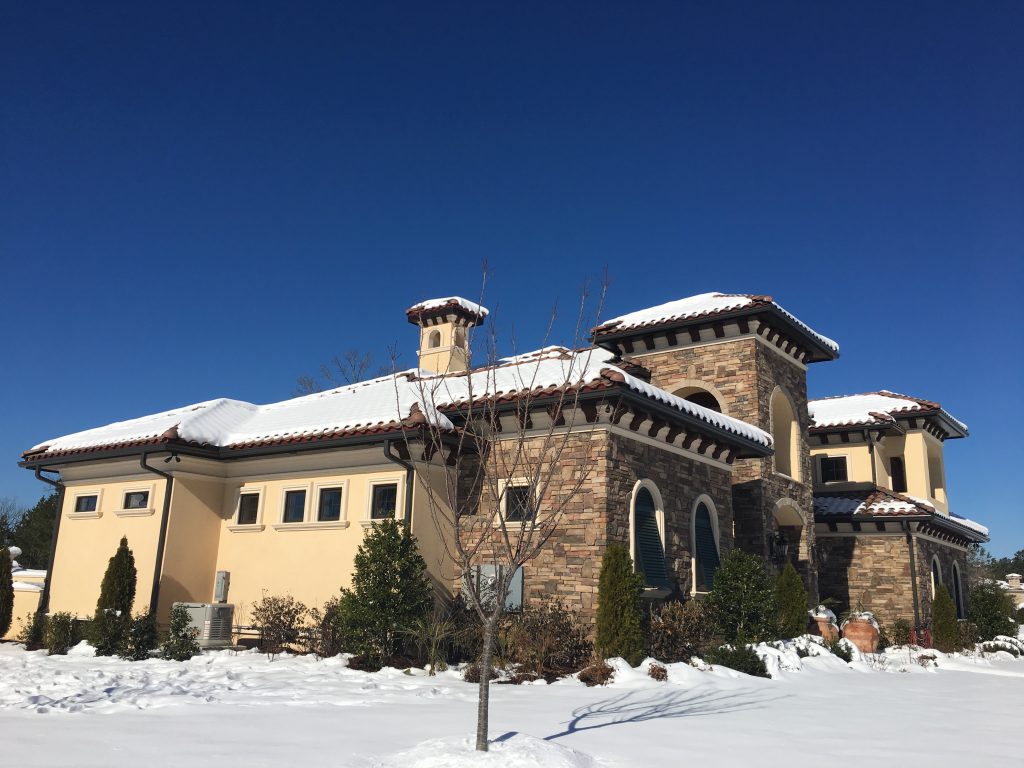 Myth #2: Concrete roof tiles cannot withstand extreme weather.
False. Concrete roof tiles undergo a series of tests to ensure they either meet or exceed industry standards. Tiles manufactured by Eagle Roofing Products in particular are Class A fire rated, which means they are fire resistant, can withstand windspeeds of up to 180mph, and are hail/impact tested. Also, all of Eagle's Conventional Weight color-through concrete roof tiles (excludes slurry/color bonded tiles) adhere to freeze-thaw requirements and can be installed in regions that experience these types of climates.
Myth #3: Concrete roof tiles do not provide energy savings.
False. Concrete roof tiles possess inherent reflective properties that allow them to remain cool. The tiles are able to reflect sunlight and, instead of absorbing that heat and transferring it down from the roof deck into the structure, they release the heat for greater energy efficiency. The installation of a concrete tile roof system also naturally ventilates the space between the roof and the deck, reducing heat transfer into the attic by up to 50% when compared to other roofing materials, such as asphalt shingles. Concrete roof tile manufacturer, Eagle Roofing Products, also offers Cool Roof Tile that are approved by Energy Star and the Cool Roof Rating Council (CRRC) for reflectivity that can potentially result in a 10 to 30 percent annual savings on energy costs.
Myth #4: Concrete roof tiles are expensive.
False. While a new concrete tile roof may seem expensive initially, once you consider the fact that the tile itself will last for the life of the structure when installed properly, the full life-cycle cost of the roof becomes quite affordable. When compared to other roofing materials in a study performed by the National Association of Home Builders (NAHB), the lifespan of tile roofs far exceeds that of any other roofing material, making the cost per year substantially lower than that of asphalt shingles or metal. In the instance that a concrete tile roof does need to be reroofed due to the life expectancy of the other components of the roof system, such as the underlayment, it will mostly likely only need to be reroofed 1 time during this period, resulting in a cost of only $36 per year.