It is well known that concrete roof tiles are inherently energy efficient, durable and sustainable. Eagle Roofing Products has taken these benefits a step further with the development of the Ventilated Roof System, a new roof system that has the potential to facilitate added energy efficiency and a greater lifespan to the roof.
As indicated in the illustration, the Ventilated Roof System is composed of three key elements: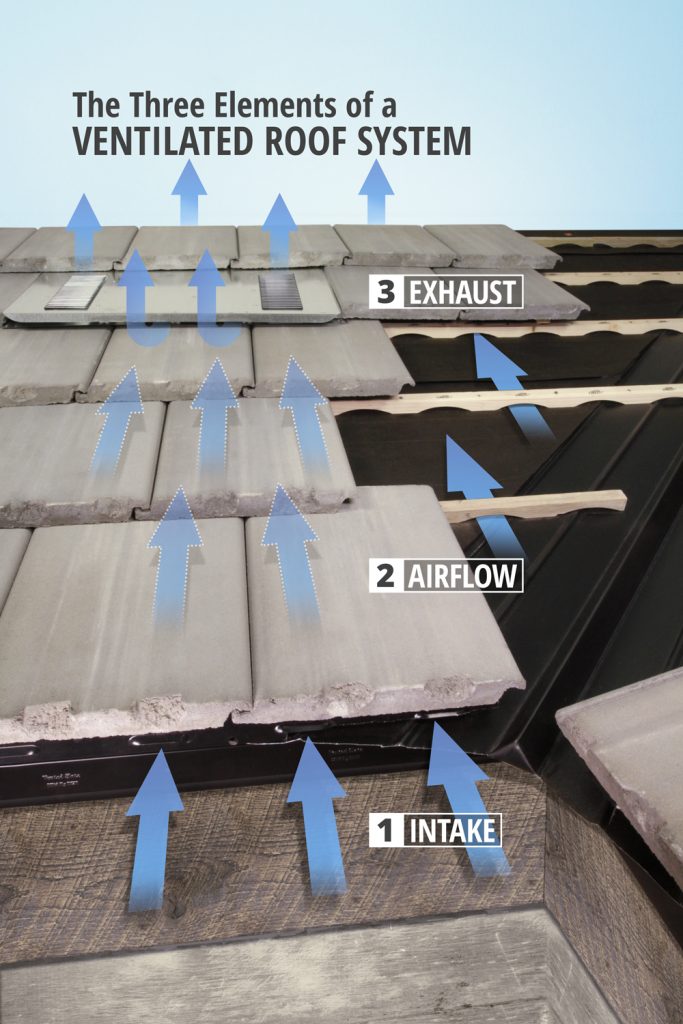 Intake: Air enters the roof system through a perforated metal eave closure. A standard eave closure offers a small drainage opening and does not encourage air intake.
Airflow: Air travels from the eave under the roof tiles. The velocity of airflow under the roof tiles is elevated by using Eagle's Arched Battens. Arched Battens are produced from graded lumber and are available in natural or treated wood. Their single piece construction ensures structural rigidity and does not require the use of special "raised" metals.
Exhaust: Proper air exhaust occurs in the upper third of the tile roof system. Exhaust can be accomplished via ventilated tapes at the ridge, or with profile specific O'Hagin Roof Vents as shown.
According to the Oak Ridge National Laboratories, a 1995 study by Beal and Chandra showed a 48 percent reduction in heat transfer into the attic with tile roofs installed using ASV (above sheathing ventilation) when compared to a direct nailed asphalt shingle roof. The roof system can also provide insulation in hot climates, prevent ice damming in colder regions, and for areas that experience frequent precipitation, the Ventilated Roof System allows tiles to dry out faster to reduce the growth of naturally-occurring pollutants, like bacteria, algae and mold.
If you are in need of a new Eagle concrete tile roof and the added benefits of the Ventilated Roof System are of interest to you, be sure to consult with your professional roofing contractor. It is important to discuss this option prior to having the tiles ordered and installed since the roofing contractor will not be ordering typical roof components and, instead, will be ordering those that create the Ventilated Rood System.
For more information on Eagle's Ventilated Roof System, contact your local Eagle Account Representative.