If you're considering selecting one of Eagle Roofing Products' flat concrete roof tile profiles for your home or commercial structure, and want to give the exterior more of a modern style, there are several rakeless detail options you can choose from to deliver this effect.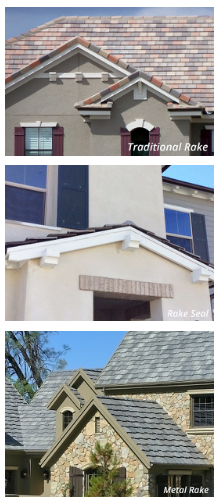 Traditional flat tile installations include a 90-degree rake piece that goes along the outer sloped edge of the roofline. A rakeless installation, on the other hand, facilitates a sleeker appearance for low profile concrete tile roofs by achieving a sleeker appearance with clean edges along the roofscape. This can be done by using Eagle's Rake Seal or a metal rake.
Specially designed to fit Eagle concrete roof tile, Rake Seal is a UV and weather resistant foam that prevents intrusion by weather, debris and animals at all rake edges and gable ends. Not only is it an easier, more cost-effective alternative to rake trim, but it is also a practical solution that protects against the elements, while facilitating multiple architectural types, from modern to traditional. Depending on the code requirements in your area, a mudded finish may be added in areas prone to wind driven rain.
The other rakeless method, metal rakes, can be used with all concrete roof tile profile shapes; not just flat. The metal strips are visible along the rake when installed, but can be painted to match the exterior's trim or fascia color. This offers a more minimalistic look than traditional rake tile, while providing weatherblocking throughout the roof.
Once you have selected a flat concrete roof tile and decided that one of these modern, rakeless installations is what your project needs, consult with your bonded and certified professional roofing contractor. It is important to discuss this option prior to having the tiles ordered and installed as traditional rake tiles will not be ordered.
To view our flat concrete roof tile offerings, or for more information regarding Eagle Roofing Products, visit www.eagleroofing.com.