It is well known that tile roofs are generally heavier in weight than other roofing materials. While this is commonly perceived as a disadvantage, it's actually quite beneficial! The weight of concrete roof tiles in particular results in added energy efficiency, durability and longevity.
The density of concrete roof tiles leads to high thermal mass, which represents the ability of a material to absorb and store heat energy. This means that during summer months, the tiles absorb heat, keeping the house comfortable. In winter, the same thermal mass can store the heat from the sun to release it at night and help the home stay warm. In addition, independent testing performed at the Department of Energy's Oak Ridge National Laboratory demonstrated that roof tiles have the ability to cut the transfer of heat by up to 50% when compared to other roofing materials, like asphalt shingles.
Another benefit that the weight of concrete roof tile offers is superior strength and ratings. When installed properly, concrete roof tiles are able to resist the harshest of weather conditions and are known to last as long as the structure it's supporting. Manufacturers, such as Eagle Roofing Products, are proud to call their tile Class A fire resistant, hail/impact resistant, Miami-Dade high velocity hurricane zone approved and freeze-thaw rated.
The aforementioned durability trait of the concrete roof tiles results in an unbeatable lifespan. When compared to other roofing materials in a study performed by the National Association of Home Builders (NAHB), the lifespan of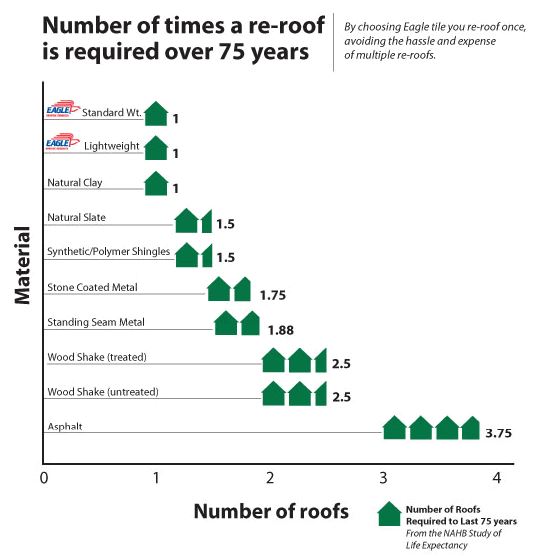 tile roofs far exceeds that of any other roofing material with just 1 reroof needed within a 75-year time period. That means concrete tile roofs can last 3-4 times as long as a temporary asphalt shingle roofs and cost 1/3 of the price at the end of the roof's life.
Even with all of these benefits of concrete roof tile's weight listed, you may still be wondering how your house or commercial property will support the weight of the roof system. Well, houses with pre-engineered trusses, more often than not, are capable of supporting a tile roof. If a roof has conventional framing, or no pre-engineered trusses, an engineer can be consulted to assess the load capacity. Often times, upgrades to framing are minimal, if necessary at all. Some manufacturers are even known to reimburse a portion of the cost for an engineering report.
Don't let the weight of concrete roof tiles limit your options to less permanent alternatives with low energy efficiency capabilities, durability and longevity. Contact your local Eagle Roofing Products Account Representative today to begin your concrete roof tile selection process!