If you're in the market for a new roof and are considering choosing a flat concrete roof tile profile, you may want to explore the option of a specialty installation. While a flat concrete tile roof offers a crisp, clean appearance that suits various architectural types, selecting a specialty installation can provide added character to your exterior – or even modernize it – depending on the install. Here are some options for flat tile profiles:
Staggered Installation*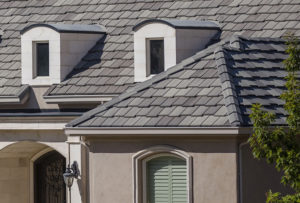 A great way to give your home an Old World feel and provide a unique appearance, a staggered installation is perfect for those seeking an authentic slate-like or wood shake look.  Eagle's flat Bel Air, Textured or Tapered Slate concrete roof tile profiles are the ideal choice for a slate emulated appearance. The simplicity and beauty of these profiles paired with the staggered exposure mirrors the natural, rock-like elements of slate tiles that often vary in length. Concrete roof tile is also more cost effective than slate and weighs much less. For more of a rustic, cedar wood shake look, try a staggered installation using a flat textured profile, like Eagle's Golden Eagle or Ponderosa. This provides a natural wood grain appearance without the durability and longevity downfalls that coincide with authentic wood shakes. A charming roof style, this specialty installation pairs nicely with homes that reflect Cottage, Lodge or Tudor architectural characteristics.
Rakeless Installation*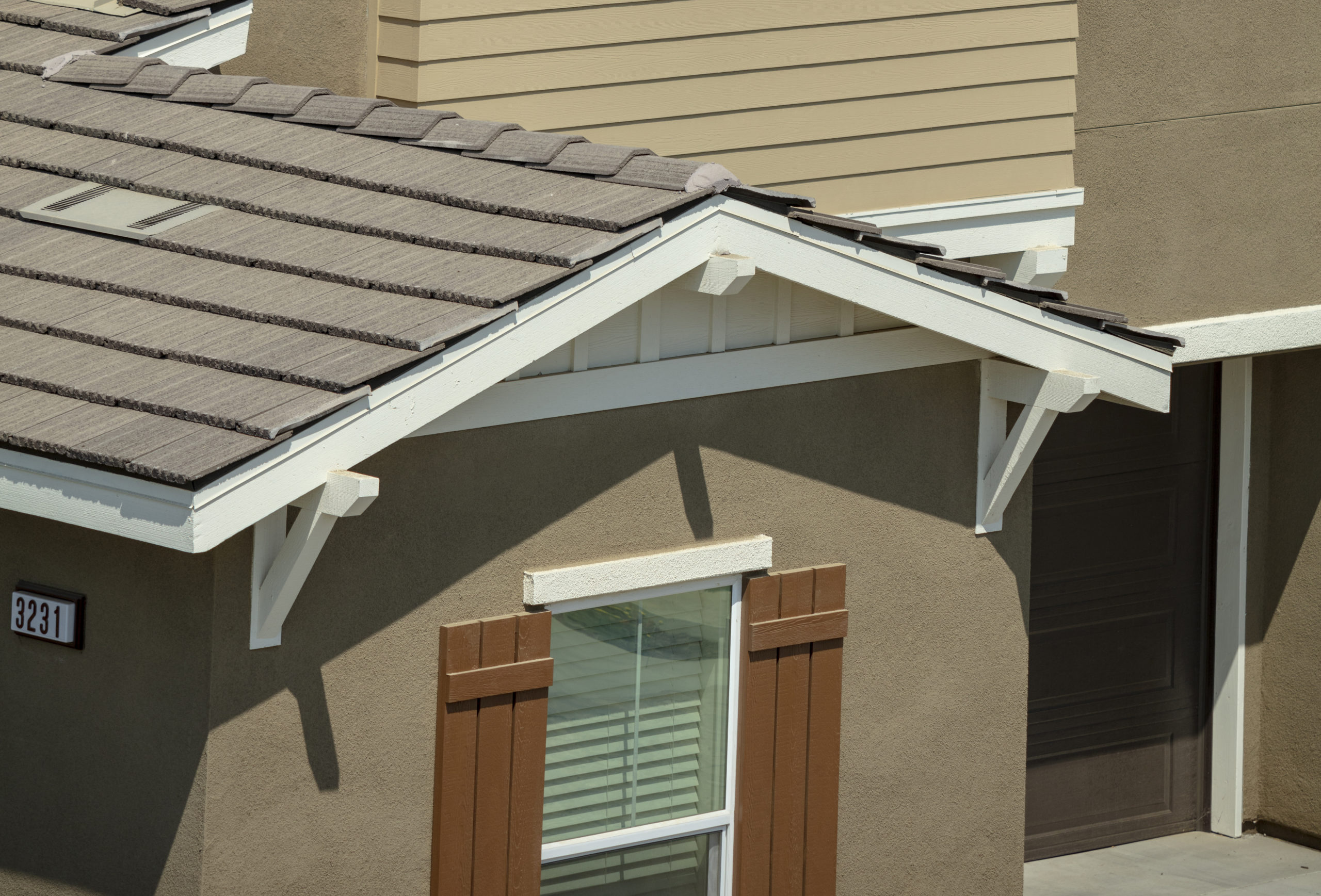 Contrary to typical flat tile installations that use a 90-degree rake piece, a rakeless installation achieves fluidity and clean edges along the roofscape for a modern appearance. This can be achieved with use of a rake wedge, such as Eagle's Rake Seal. Rake Seal, in particular, is specially designed to fit Eagle's flat concrete roof tile profiles and is not visible once installed. A rakeless installation complements many of the increasingly popular architectural styles seen throughout recent housing developments, such as the Modern Farmhouse, Modern Spanish and Modern Prairie, to name a few.
Mitered Ridge Installation*
Similar to a rakeless installation, the use of traditional ridge pieces can be eliminated with the application of a mitered ridge. Normally, a flat concrete tile roof would be installed using bulky trim pieces along the roof's ridge – the top-most edge of a roof where two opposing slopes meet. With a mitered ridge installation, the field tiles are cut to meet at the adjoining ridgeline, offering a more minimalistic look than traditional ridge applications, while ensuring weather blocking throughout the roof.
If you are interested in selecting one of these specialty installations, be sure to first consult with your professional roofing contractor. It is important to discuss these options prior to having the tiles ordered and installed as the materials ordered may differ from that of a standard installation.
For more information on Eagle Roofing Products, or to begin browsing our flat concrete roof tile offering for your area, visit www.eagleroofing.com.
*This specialty installation option is only applicable to flat concrete roof tile profiles.