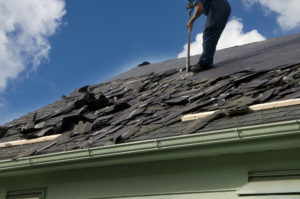 There are many external factors that may cause wear and tear of your roof. Extreme weather conditions, severe roofing material damage and even old age can signal it's time for a remodel or renovation. Whether you already have concrete roof tile or are in the market for a new Eagle roofscape, these are the warning signs to look out for that indicate you may need a roof replacement.
Any Obvious Damage
As mentioned above, there are various factors that can jeopardize the integrity of your roof such as inclement weather conditions which include rain, hail, high-wind and sun exposure, advanced aging of the roof components or a faulty installation. Lack of annual inspections and proper maintenance can lead to many problems, the biggest of them leaks, which cause water damage to ceilings and walls. In addition, water infiltration can result in rotted framing, destroyed insulation, mold and mildew, possible electrical damage to such things as ceiling fans and lights, as well as may compromise the overall soundness of the structure.
If you haven't ventured into the world of concrete roof tile yet and still sport asphalt shingles on your home, some things to look out for include shingle edges that are curled, cracked or completely missing. Regardless of your roofing material, it's recommended that you visually inspect the flashings in the valleys as well as around skylights, chimneys and vents for deterioration and rust. Also, don't forget to clean out gutters and remove any visible debris.
In addition, if you notice extreme temperatures in your attic space, perhaps your roof is not ventilated properly, which means heat has no way to escape resulting in an overheated attic. Luckily, Eagle offers the Ventilated Roof System, which ensures proper air flow and exhaust to keep your house cool and roof maintained. A properly ventilated attic extends the life of the roof, its components and reduces energy costs.
Aesthetics
Perhaps damage isn't the issue and you simply want to change up your home's exterior design to become more aesthetically pleasing. This could mean your roof just looks old and worn, the color and style no longer appeals to you, or you're finally ready to branch out and convert from other roofing materials to Eagle concrete roof tile. Damage to shabby shingles or destruction to a metal roof after a hail storm could be the turning point where you switch to a stronger and more resistant solution. Eagle tile is durable, energy efficient, longer-lasting, and best of all, beautiful.
Failed Inspection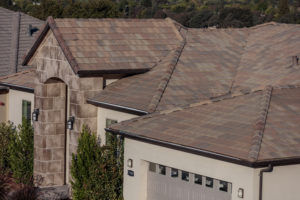 When in doubt, call a licensed and insured contractor to come out and perform a roof inspection. A failed inspection mandates a roof replacement and the Tile Roofing Industry Alliance (TRIA) is a great resource to find roofers and contractors nearest you. Working with a professional can help ease concern and ensure your roof is thoroughly checked before a repair.
For more information regarding Eagle concrete tile and roof maintenance, visit www.eagleroofing.com or contact your local account representative.