If you live in a region susceptible to extreme weather, like tropical storms or Santa Ana winds, a common concern may be whether your roof covering can protect your property from such conditions. If you are in the market for a new roof, consider the following. An Eagle concrete tile roof can withstand winds of up to 180mph and is made to last the life of the structure it's on. Take it a step further and you can enhance the durability and performance with our Dual Fix Hybrid System, a recommended installation method that provides optimal wind uplift prevention.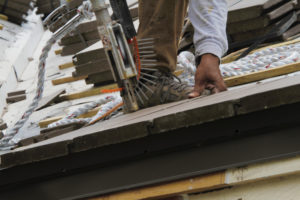 Eagle's Dual Fix Hybrid System combines the proven and verifiable security of mechanical fasteners, specifically tile screws, with the added uplift resistance and walkability of single component tile adhesive. The best of both worlds, this superior installation method of attaching concrete roof tile to the deck guarantees greater protection against unrelenting wind.
Not only are tile screws superior to nails, but they hold the advantage of not backing out as they have stronger holding ability and facilitate greater walkability, lessening the risk of cracked or broken tiles. In order to further secure and strengthen the roof, Eagle has teamed up with DuPont to incorporate their Tile Bond™ Roof Adhesive, a portable one-component polyurethane foam adhesive used to attach concrete roof tiles. Not only does this foam deliver the highest level of performance, but it doesn't require careful and timely calibration, as opposed to two-component foam, thus creating optimum efficiency for your project. Another great advantage of Tile Bond is that it's hurricane-zone qualified as it has been proven to not lift tiles once attached to the roofscape.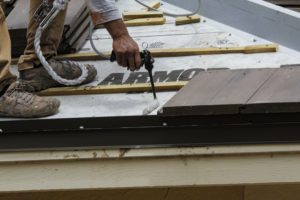 Not only is the Dual Fix Hybrid System secure and verifiable, but this application gives you affordability to a system that allows for greater uplift resistance to any structure. Cost-effective and functional, the Dual Fix Hybrid System has been tested and proven to provide reassurance and bring peace of mind to both building owners and homeowners alike.
Your roof matters and Eagle strives to be your company of choice when it comes to beautiful and durable products. For more information on the Dual Fix Hybrid System, contact your local Eagle Account Representative to learn more!