With design trends constantly evolving, three architectural themes have become increasingly popular amongst builders and homeowners alike, those being contemporary, modern and transitional. These home styles have their own unique characteristics but one thing that they have in common is that they often feature a flat roofing material. To visually elevate any building or roofscape, the perfect complement is choosing a concrete tile roof. Contrary to popular belief, this process no longer limits you to Mediterranean-themed barrel products. In fact, Eagle Roofing Products offers a variety of flat roof tiles suitable for any aesthetic.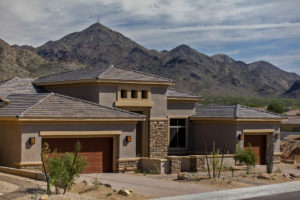 Prevalent in many regions across the United States, Transitional-styled houses offer residents rigid yet sleek clean-cut lines, an assortment of blended fascias, woodwork or stonework, large windows and simple landscaping. These ultramodern buildings deserve to be paired with an equally lustrous roofscape, like Eagle's most sought-after flat roof tile, Bel Air. This profile is available in multitude of gorgeous ranges and blends, and features a smooth surface that exudes contemporary refinement.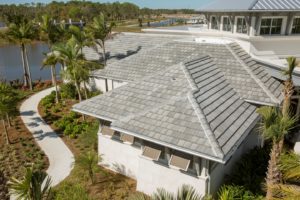 Another timeless home style that pairs beautifully with flat concrete tile roofs are Ranch themed abodes. These dwellings were once the dominant architectural trend for residential communities and therefore can be found in every corner of the country. Ranch inspired buildings are known for their simple floorplans, large windows, limited stonework, low pitched roofline and are primarily single-storied. To add dimension and enhance the profile of the structure, consider selecting a Tapered Slate product from Eagle. This offering combines a clean surface with chamfered edging to emulate a luxurious slate roof. The chipped edges provide the perfect amount of distinction to this clean design.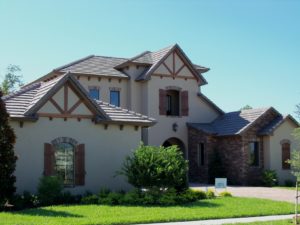 Should you have a more uniquely fashioned residence, such as a Bungalow or Craftsman house, a concrete tile roof is the perfect choice. Just as popular as the aforementioned architectural styles, these structures are abundant nationwide, from coastal to rural regions. They feature either a single story or half story second floor, a low-pitched roof, large front porches, columns and strategically placed shrubbery to block the view of neighbors for added privacy. Instead of a bland asphalt shingle, contemplate picking an emulated wood shake concrete roof tile from Eagle, such as our Golden Eagle profile. This product adds a partially broom swept texture to a flat surface that offers a rugged look for those seeking an overall rustic appearance.
Interested in selecting a flat profile for your home? Contact your local Eagle Account Representative or begin browsing online today!