About Eagle
Founded three decades ago, in 1989 by Robert Burlingame, Eagle Roofing Products is the only concrete roof tile manufacturer that is American founded and owned.
With our headquarters and first production facility located in Rialto, CA, and additional manufacturing plants in Stockton, CA, Phoenix, AZ, and Sumterville, FL, Eagle proudly services the entire US territory and Canada with nine profile options and 100+ color varieties.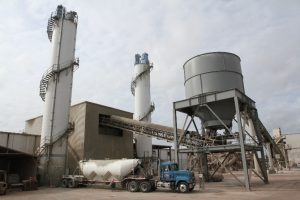 We take pride in our large and diverse work force of over 500 Team Members, that are knowledgeable in not only concrete roof tile and its components but in regional trends and needs, earning us a reputation for being the most trusted manufacturer of high-quality roofing solutions.
Our raw materials, those being cement and sand are eco-friendly and locally sourced as we are huge proponents of green building and sustainability for a better, cleaner earth. Daily we recycle and repurpose within our facilities to further conservation, grounding reject tile into aggregate to be reused in the creation of new tile or construction projects such as roadways. This leads to near-zero waste resulting in less landfill consumption when compared to other materials.
Our Roof Tile Products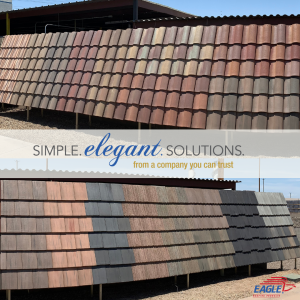 Eagle offers an extensive collection of profiles, textures, and colors. Starting with our flat profiles Bel Air, Ponderosa, Golden Eagle, Double Eagle Bel Air, Double Eagle Ponderosa, Estate, and Tapered Slate that come in a variety of appearances to suit a wide array of architectural styles from Modern, Colonial, Craftsman, French Provincial, and Tudor to name a few. Malibu and Capistrano make up our medium and high-profile selection that delivers a beautiful, timeless feel ideal for Mediterranean, Floridian, and Modern style homes as well as large commercial or residential buildings.
Our abundant portfolio of gorgeous colorways includes standard integral such as Dark Charcoal, ranges like Kona Red Range, and multi-color blends such as Walnut Creek Blend. With so many options, it can be a difficult task to choose one, but we can assure you that any pigment and finish from Eagle Roofing will beautifully accentuate the tones and accents in your exterior design style for maximum curb appeal.
Finally, not only are our products stunning and diverse but they are also long-lasting and inherently energy-efficient. In addition, Eagle concrete roof tiles are incredibly durable, tested to the highest standards in the industry for fire, high-wind, hail and freeze-thaw protection (excludes slurry tile). Designers and builders who engage in green building practices choose Eagle repeatedly, and we are happy to maintain that our products are an environmentally friendly alternative to asphalt shingles, and at times more cost-effective than slate, wood shake, and stone coated metal.
At Eagle Roofing Products, we couldn't be prouder to be a part of the U.S. Manufacturing industry, and appreciate your consideration to buy a Made in the USA product like our concrete roof tile for your home or commercial project. When you buy American, you help keep local businesses strong while supporting domestic job growth at the same time.
To learn more about Eagle and our concrete roof tile products, contact your local Eagle Account Representative.