Fall is knocking at our doors and it is time to indulge ourselves in some dazzling color combinations. Exterior paint choices are all about creating an inviting environment for your guests, family, and possible buyers. Rich hues ranging from brown to orange, mauve, and blue will bring your house to life. Keep reading to discover four ideas for your fall décor adventure.
Fall Leaf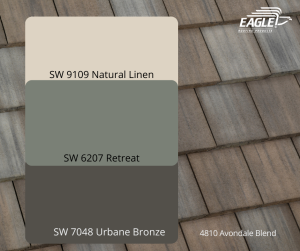 Ongoing design trends suggest that natural, organic shades are here to stay. When you think of fall colors, orange and brown typically come to mind, however you can bring light to your structure by using a lighter, seasonal green hue such as Sherwin-Williams 6207 Retreat for your base. A lighter paint for the trim will frame your home into perfection, creating depth and contrast, and Sherwin-Williams 9109 Natural Linen is the perfect complement. To tie it all together, Sherwin-Williams 7048 Urbane Bronze works ideally as an accent paint color; with it you can outline window frames, shutters, or the front door. A color scheme like this is best paired with a cool, trendy and timeless roofscape such as Eagle's September 2022 Color of the Month Avondale Blend. The brown and gray combination will beautifully enhance the architectural features of your home.
Pumpkin Spice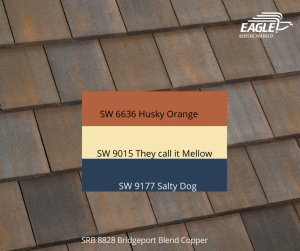 When talking about fall, we cannot leave Orange out. This is the season of pumpkin inspired everything, and you can add a warm glow to your dwelling with a gorgeous accent shade like Sherwin-Williams 6636 Husky Orange. The goal is to add spice to your exterior décor while keeping a clean look. For that purpose, a cream color like Sherwin-Williams 9015 They Call It Mellow is the ideal choice, as it has the right balance between white and yellow. Lastly, Sherwin-Williams 9177 Salty Dog adds contrast and serves as a transition between the warmth of the beginning of the fall season into the cooler winter time. Our concrete tile of choice for this palette is part of our new product offering, SRB 8828 Bridgeport Blend Copper. Versatile and elegant, this stunning combination of grays, taupe, brown, black, and copper streaks adds character to any commercial or residential building.
Charming Taupe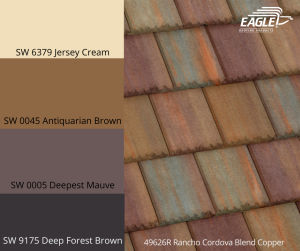 Bright and charming, 49626R Rancho Cordova Blend Copper is part of our new product offering and ideal for a fall inspired look. This concrete tile is a blend of green, gold, purple, and rust streaks that scream fall season all around. Sherwin-Williams 6379 Jersey Cream serves as the prime choice for an all over color as it is a pretty neutral that will allow the roof to stand out. For the trim, adding a touch of warmth with Sherwin-Williams 0045 Antiquarian Brown is a great idea, as it will blend seamlessly with the gold hues of the roofscape. For a major visual impact, consider Sherwin-Williams 9175 Deep Forest Brown for a dark front door and window frames and as an accent of color for smaller exterior details like flowerpots and wall art Sherwin-Williams 0005 Deepest Mauve would be a nice touch.
Cozy Autumn Browns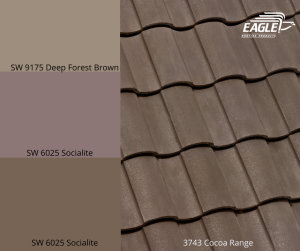 Resemblant of woodwork, Sherwin-Williams 6082 Cobble Brown is a creamy neutral that will frame any structure and bring dimension. To create a cozy visual effect that is inviting and maximizes curb appeal pair it with Sherwin-Williams 9084 Cocoa Whip. Keep it simple by adding a soft accent color like Sherwin-Williams 6025 Socialite. 3743 Cocoa Range ties this scheme together, adding intensity to this rather pale combination.
While decorating for fall, take inspiration from these palette ideas, and be creative while implementing them. You do not have to paint your entire home, you could use these references for new porch furniture, pillows, flowers, mirrors, and much more.
For more design inspiration, visit our Design Corner.