NEW PRODUCT ALERT! Eagle has rolled out a bunch of brand-new concrete roof tile colors for you to choose from for your next reroof or new construction project. From elegant grays to cozy browns to combinations of beautiful earthy shades and copper-inspired hues, we have it all. Check out a small sampling of our latest launch below.
A gorgeous, high-contrast mixture of gray, Grays Peak Range is a splendid option for adding style to your structure. Available in our sleek, timeless profile, Bel Air, this versatile roofscape provides a fashionable look that can be used on a variety of architecture and complement an assortment of paints and finishes. Looking for examples? We got you covered.
Embrace cool tones by choosing a cloudy cerulean scheme. A baby blue base with a touch of ash and blueish white trim will create a beautiful airy vibe perfect for a beachside Cape Cod home. For a moodier appearance on a contemporary or modern house, choose a darker azure body and trim it with a black that has a hint of navy.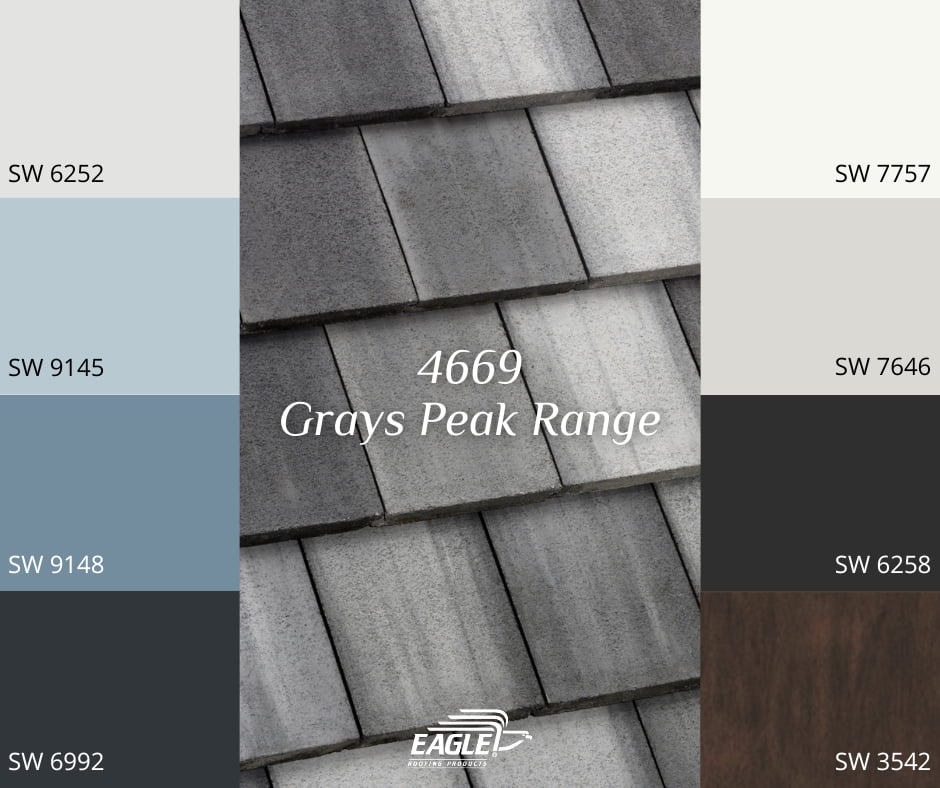 If you're a fan of trendy monochromatic colorways, opt for this scheme of white, gray and black shades. An off white with a smoky undertone is an excellent base for the house. Coat the trim with a brighter alabaster for enhanced dimension. A true black would add contrast and look stunning on shutters, downspouts, eaves and gutters. To soften the overall appearance or add more of an earthy feel, incorporate a dark natural wood accent like Sherwin-Williams 3542 Charwood in architectural details such as siding, decking and columns. This stylish look is ideal for a Craftsman, Farmhouse or Transitional home design.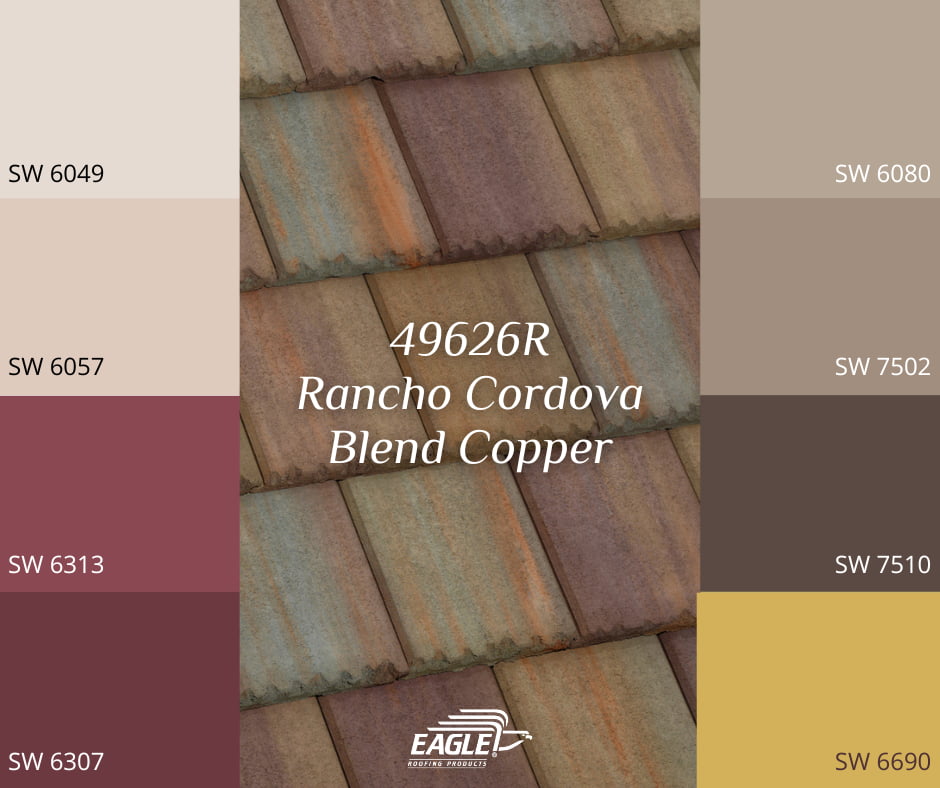 Rancho Cordova Blend Copper* is one of six featured colorways in our new Copper Series. Available in our exquisite Tapered Slate profile, this concrete roof tile has a course textured surface, beveled sides and a chamfered edge that will provide character and dimension to any outdoor space. The unique mixture of green, gold and purple with rust-color streaking gives the roof a soft, semi-weathered look that is undoubtedly exquisite and beautiful. The variations will draw your eyes upward, creating a dazzling, durable statement piece for any number of residential and commercial designs.
If you are looking to create a gorgeous exterior with eye-catching contrast, you may want to go with a wine-red color scheme to emphasize the purple in the roofscape. These deep berry tones will work great as the hue to a front entrance or decorative accents to a soft beige body that has a bit of red to it like Sherwin-Williams SW 6057 Malted Milk. To tie it all together, consider adding lush green landscaping and an assortment of vibrant flora to complement the dyes found in the roof tile.
For a more neutral, muted scheme that will pair gracefully with the green and purple in the roof tile, choose an array of soft brown tints. The body of the home will look beautiful and inviting varnished in a warm beige and trimmed with a slightly darker color in the same family. To add contrast to this cohesive look, accentuate eaves, fascia and your garage door with a deep cocoa shade. A great option for a pop of color on your front door or outdoor furniture is an ethereal golden paint that will highlight the gold in the roofscape.
An earthy blend of green, brown and gray, New Orleans Blend* in our raked Ponderosa profile provides a stylish textured crown to a variety of home styles. Check out the schemes below to discover how you can easily devise a soothing, nature-inspired paradise with this roof tile.
To create a balanced exterior with this roof covering, a stony gray-green hue like Sherwin-Williams SW 6162 Ancient Marble is a great option that provides versatility and warmth when used for the body of a craftsman or bungalow building for instance. Gloss columns and fascia in a cool white and darken shutters and decorative accents with a deep coffee for contrast. This will also emphasize the chocolate shades in the tile and create unity. A taupe paint added to decorative accents like lighting fixtures and flowerpots can further accentuate the gray in the roofscape.
Use leafy greens to fashion a relaxing, cozy exterior for a forest cottage vibe. Coat a muted vermilion on the base alongside a lighter jade trim. For a more modern touch, you can decorate the body of your structure in a deep dark brown and trim it with a smoky sage. You can also add decorations like string lights, colorful flowers and rock waterfalls to design a paradisiacal escape.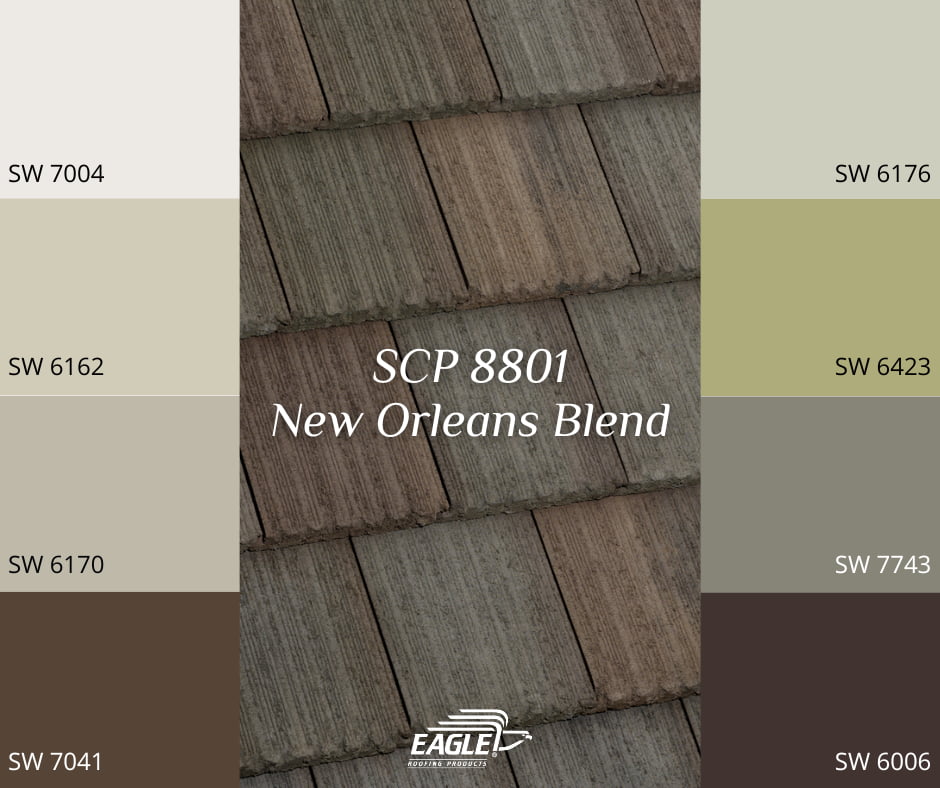 For a full list of our concrete roof tiles per region, go to our Browse Tiles page. If you need assistance deciding which profile and color would suit your needs, visit your nearest Design Center or contact your local Eagle Account Representative. we are here to help!
*Not available in all profiles and regions.