February 2023 Color of the Month

Sunrise Blend
Beautiful and warm, you can't help but fall in love with February's color of the month, Sunrise Blend, a mixture of Terracotta and Brown. Inspired by nature, this hue reminds us of earth's rich soil, blazing sunsets, and red rock landscapes. Available in four unique profiles*, Sunrise Blend provides endless exterior design options while enhancing your overall curb appeal.
*Sunrise Blend may not be available in all profiles in your specific region. Please check our website for a complete list of products available in your area.
Request a FREE Sample
CLICK HERE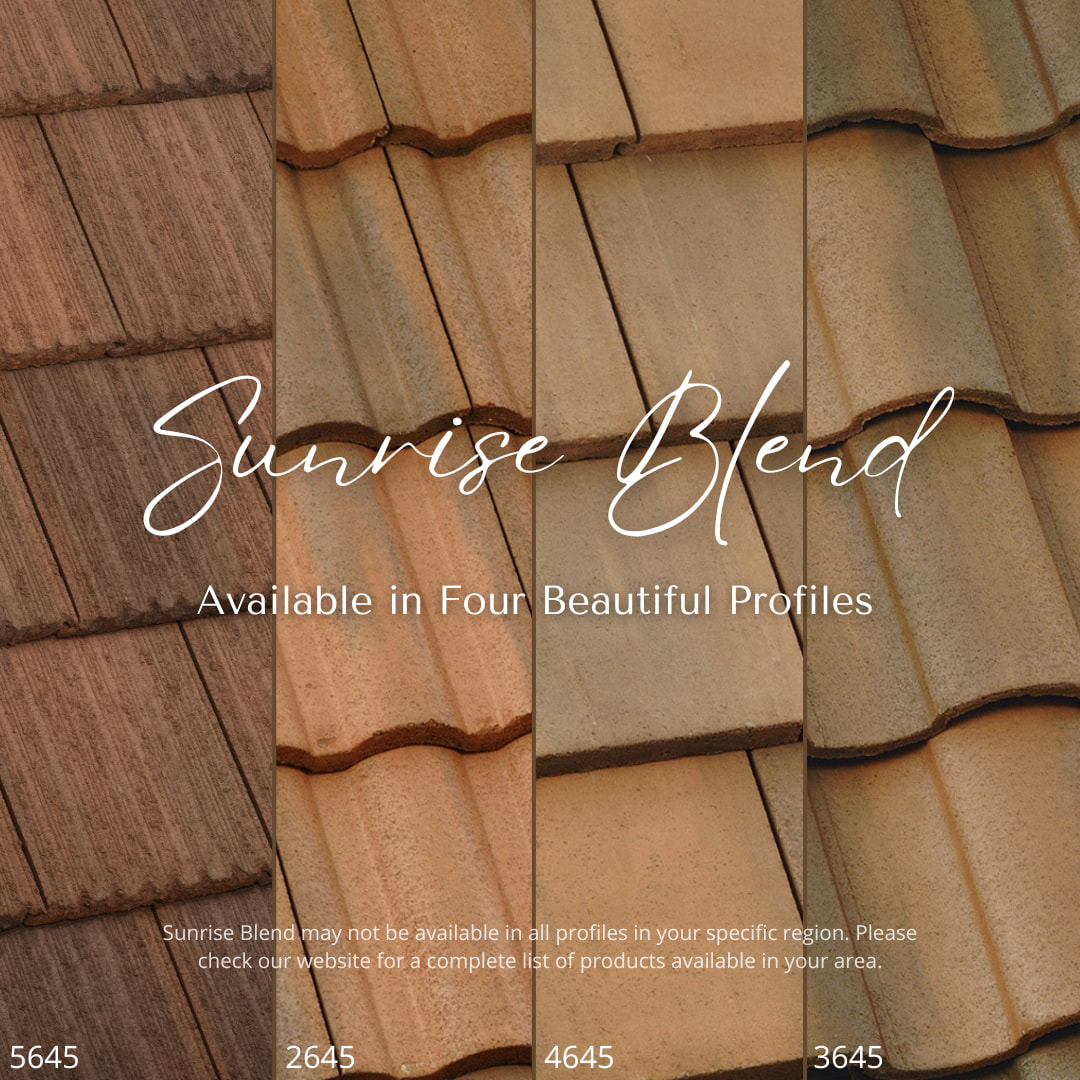 Design Trends and Versatility
Seen in a variety of home textiles, decorative accents, floors, ceilings, sculptures and architecture, the color Terracotta has been well loved over the ages. Meaning "baked earth" in Italian, this burnt orange hue with touches of brown evokes positive emotions, such as happiness, optimism, energy, and serenity. Couple that with the elegance, stability, relaxation, and peace that is associated with Brown, and you have a beautiful blend that will elevate any residential or commercial space.
Warm, earthy tones have made a resurgence as a design trend, making Sunrise Blend the perfect companion for both Mediterranean and Spanish style homes, as well as Beach Bungalow, Craftsman, Ranch, Tudor and Victorian to name a few. It is also an ideal choice for restaurants, commercial plazas, universities, and municipalities.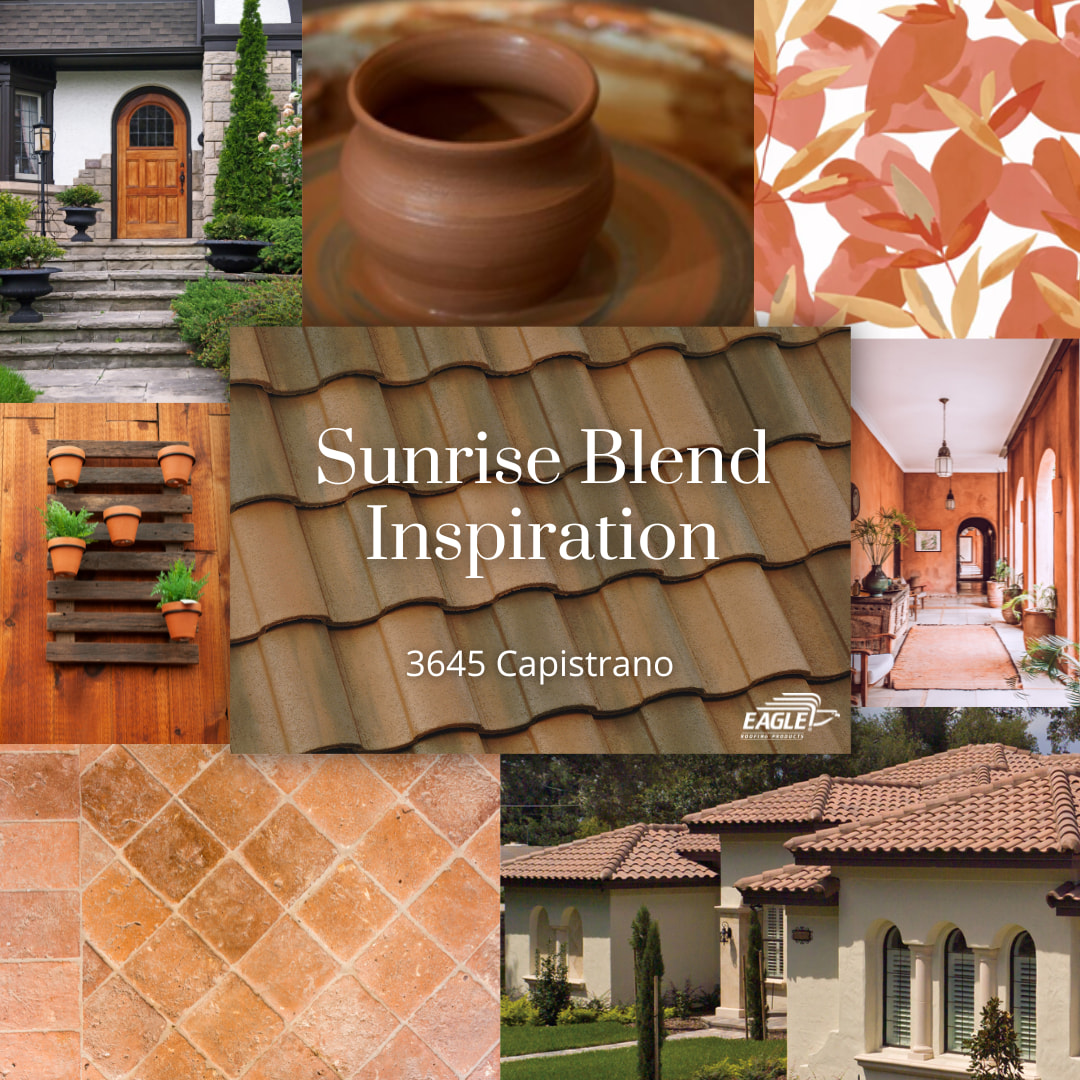 Color Exploration
Rich and inviting, Sunrise Blend blends beautifully with both warm and cool palettes. It's great with colors of the same spectrum, such as red, orange and cream. For a softer combination, you may want to consider taupe, mustard or off-white. Below, we included two distinct exterior schemes that may help you envision this glamorous concrete tile roof on your abode or commercial property.
Going for more of an organic vibe, consider pairing Sunrise Blend with Sherwin-Williams SW 7025 Backdrop for your base. A warm brown with a gray undertone, this hue would draw out the umber in the roof tile while giving the overall exterior a fashionable look. Next Sherwin Williams 7006 Extra White would be a smart choice for the trim around the windows and doors, as well as any columns or fascia boards, since it is clean and bright. Finally, to give your façade a striking, contemporary edge, add SW 7623 Cascades which is a deep green that leans teal, or if you want to pull from the Terracotta, then SW 6356 Copper Mountain is an excellent selection. Both aforementioned colors would work well for the front door and any decorative accents.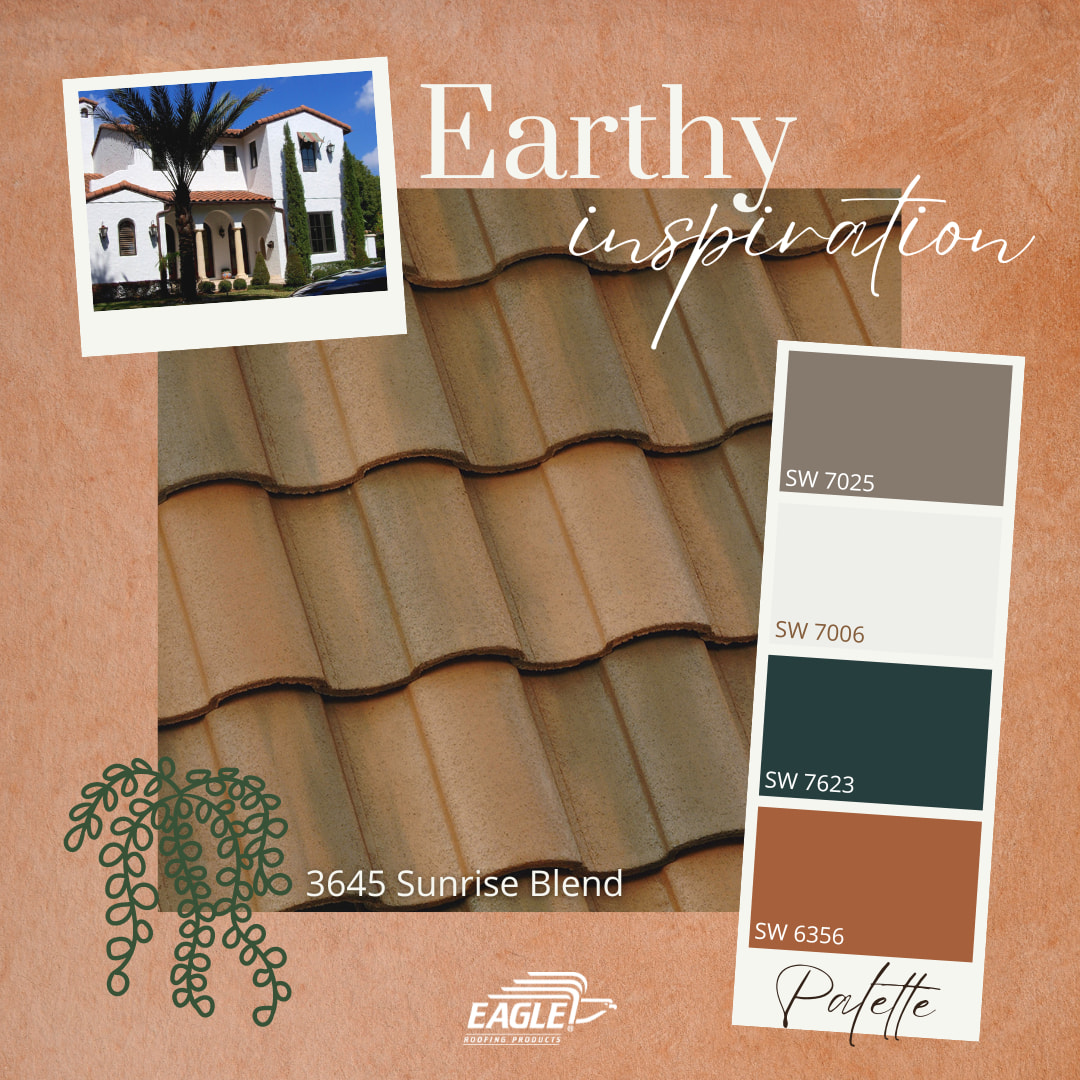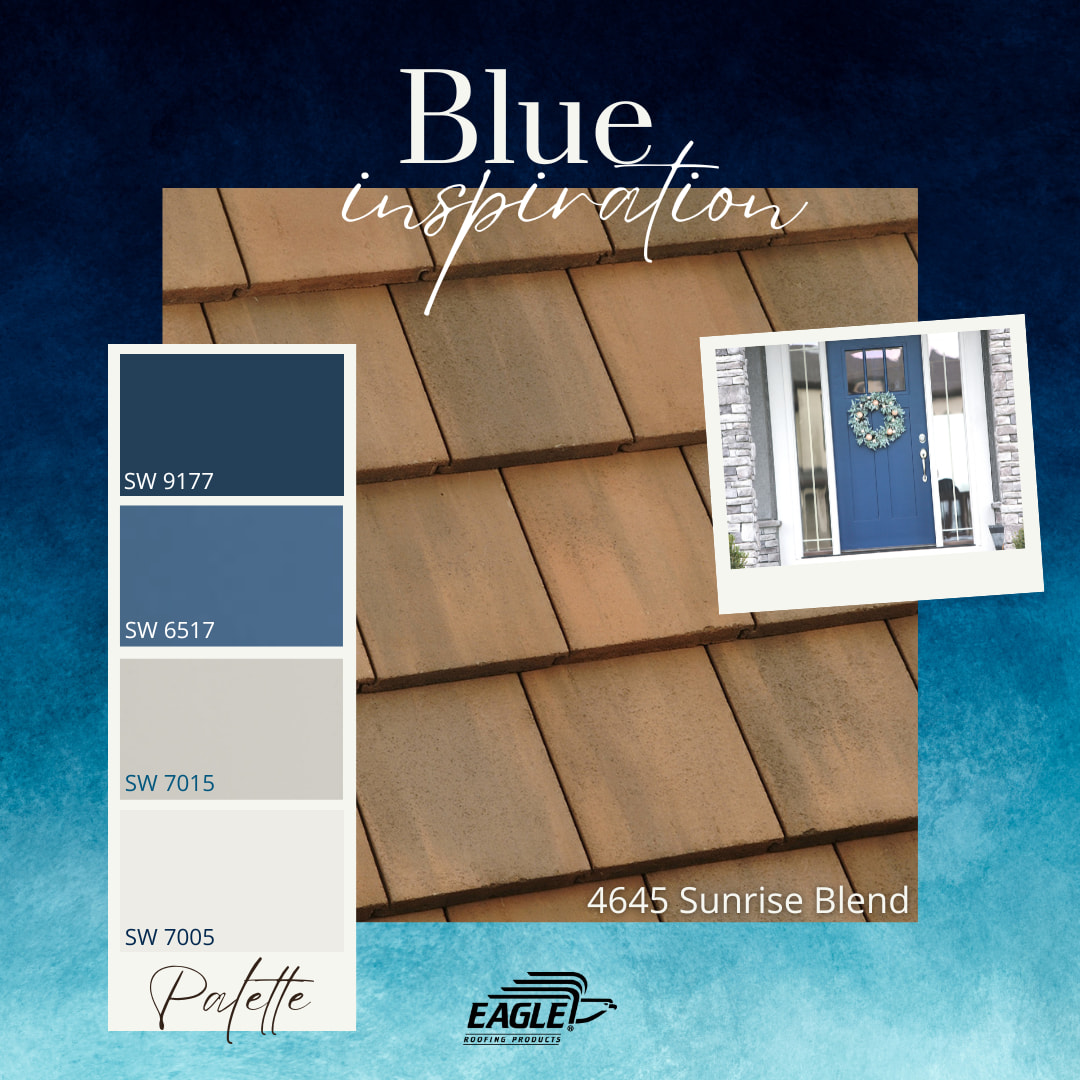 A beautiful companion to both orange and brown, blue combined with a Sunrise Blend concrete tile roof will give presence to any property.
To start, we favor Sherwin-Williams SW 9177 Salty Dog for the base as it is a luxurious dark blue that is modern and sophisticated and would exquisitely complement the roof tile. To tone down the boldness of the hue, we would use Sherwin-Williams SW 7005 Pure White which has a yellow undertone and keeps it from looking too stark. It is a great color to use on the trim of the house. For the entryway and garage door, consider adding SW 7015 Repose Gray which adds a softness and tranquility to the overall space. If you prefer to stay on the blue theme, then SW 6517 Regatta is perfect for outside decor or to gloss your front entrance.
The choices are endless with an Eagle Sunrise Blend concrete tile roof. Timeless and versatile, it is a stunning focal point on any residential or commercial property while allowing for creative expression.
For More Information or to Request a FREE Sample
More Style Inspiration