June 2023 Color of the Month

Sunset Blend
Welcome the warmer temperatures and cloudless skies this summer with June's Color of the Month, Sunset Blend. Such a beautiful symphony of bronze hues and clay tones offers a timeless roofscape inspired by the setting sun's warm orange tinge that adorns the horizon before dusk. This versatile concrete roof tile is available in three brilliant profiles*: Bel Air, Capistrano and Malibu. Sunset Blend pairs effortlessly with classic haciendas recreating an Old-World feel or modern bungalows mirroring current design trends. Regardless of style or scheme, this colorway will captivate the attention of onlookers and add flair to any structure's exterior.
*Sunset Blend is not available in all profiles or regions. For a full list of products in your area, please visit the BROWSE TILE section of our website.
Request a FREE Sample
CLICK HERE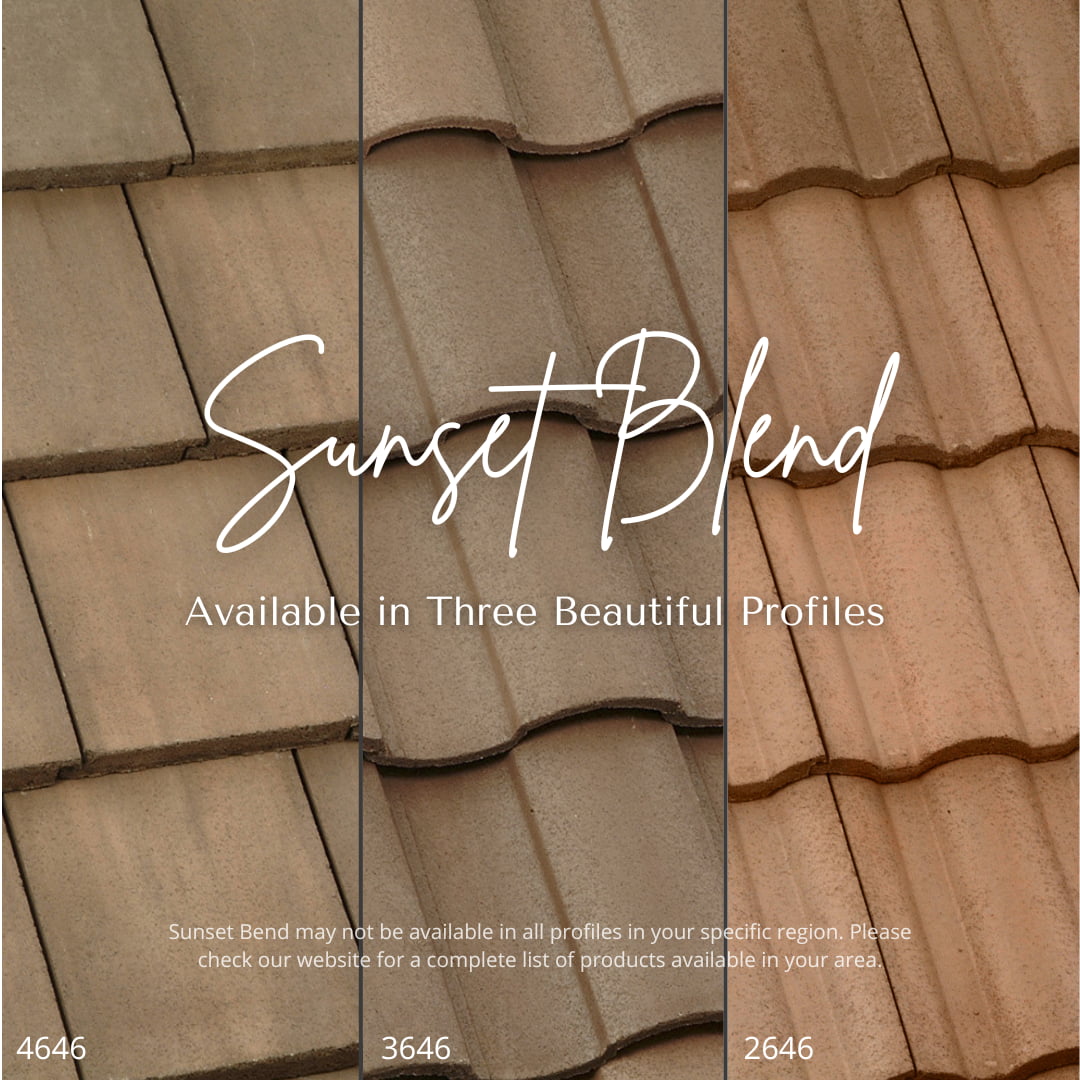 Design Trends and Versatility
Warm and soft palettes, natural materials and earthy vibes are growing in popularity this season. With 2023 design trends leaning more and more towards sustainable living, choosing a concrete tile roof will allow you to easily incorporate outdoor elements while simultaneously uplifting your structure's façade and energy efficiency.
Our high-barrel profile Capistrano is a style icon known for its traditional S-curve and historic grace. Sunset Blend in this profile has a caramelized glow that will elevate the exterior of commercial properties and residential homes. Extend the motif by complementing the roof with ornamental details like intricate floor tiles or brightly painted railings, while also playing with texture when picking outdoor furniture and décor.
If you are looking for something a little more subtle, our Malibu profile with its medium barrel height and gentler curves easily couples with trendsetting homesteads, as well as conventional structures. On the other hand, our smooth Bel Air roof tile offers pristine, sleek lines that will magnificently transform the curb appeal of any number of architectural designs. Sunset Blend, in any one of these roofscapes, is a fantastic choice to duet with warm, muted exteriors and finishes, as well as those with pops of vibrant color meant to create daring contrast.
Color Exploration
The adaptability of Sunset Blend allows it to partner with a range of schemes from the lightest of hues to the boldest of undertones. This roof tile is multi-dimensional like the decadent colors that fill twilight hours. Below we have curated two visuals to showcase possible design pairings.
Subtle shadows and vivid pigments come together to create a warm-toned scheme like the one shown here. To start, coat the exterior body in Sherwin-Williams SW 6141 Softer Tan for a milky base with the slightest tinge of green touches that easily complements striking accents, like SW 6468 Hunt Club, for a tranquil and inviting atmosphere. Now, balance out these choices with SW 9116 Serengeti Grass glossed on the fascia, trim and shutters to lend dimension and depth while avoiding modern design's minimalist approach. With vibrant florals planted around the façade in oranges similar to SW 6886 Invigorate, the terracotta composure of Sunset Blend is matched without overwhelming the eyes. Be sure to maintain consistency when selecting decorative pieces with complementary highlights of amber and alabaster to further this look.
Refer to this mood board when designing a simple yet bright building. Cover the base in a sun-kissed foundation like SW 6367 Viva Gold to emphasize the tanned roof tile and create a homogeneous palette. Next, add some layers by staining shutters in SW 7034 Status Bronze for a cocoa-colored contrast. Finally, you'll fashion an everlasting likeness by splashing a sunny hue, such as SW 1668 Pineapple Cream on plant pots and furniture to lighten up this safe approach. When creating a monotone illusion, contrasting tones will become showstoppers. For instance, sprinkle in tints of cobalt or mustard on light fixtures, mailboxes and the front door to add a bit of character and personality to the structure.
Like the final peaks of the sun's rays breaking through the clouds, the perfect conclusion to your re-roof or new construction is an Eagle concrete tile roof. Sunset Blend's golden complexion seamlessly pairs with elegant neutrals and vibrant pops of color to ensure every moment of the day feels like a magic hour.
For More Information or to Request a FREE Sample
More Style Inspiration