March 2023 Color of the Month

Santa Paula
With a new month comes the newest edition to our color of the month series, Santa Paula! Exuding modernism, comfort and tranquility, this soothing beige with subtle cream and brown streaking is the perfect choice for a versatile and inviting exterior. This gorgeous palette is available in four of our luxurious profiles* and complements a variety of stunning paints and architectural styles.
*Santa Paula may not be available in all profiles in your specific region. Please check our website for a complete list of products available in your area.
Request a FREE Sample
CLICK HERE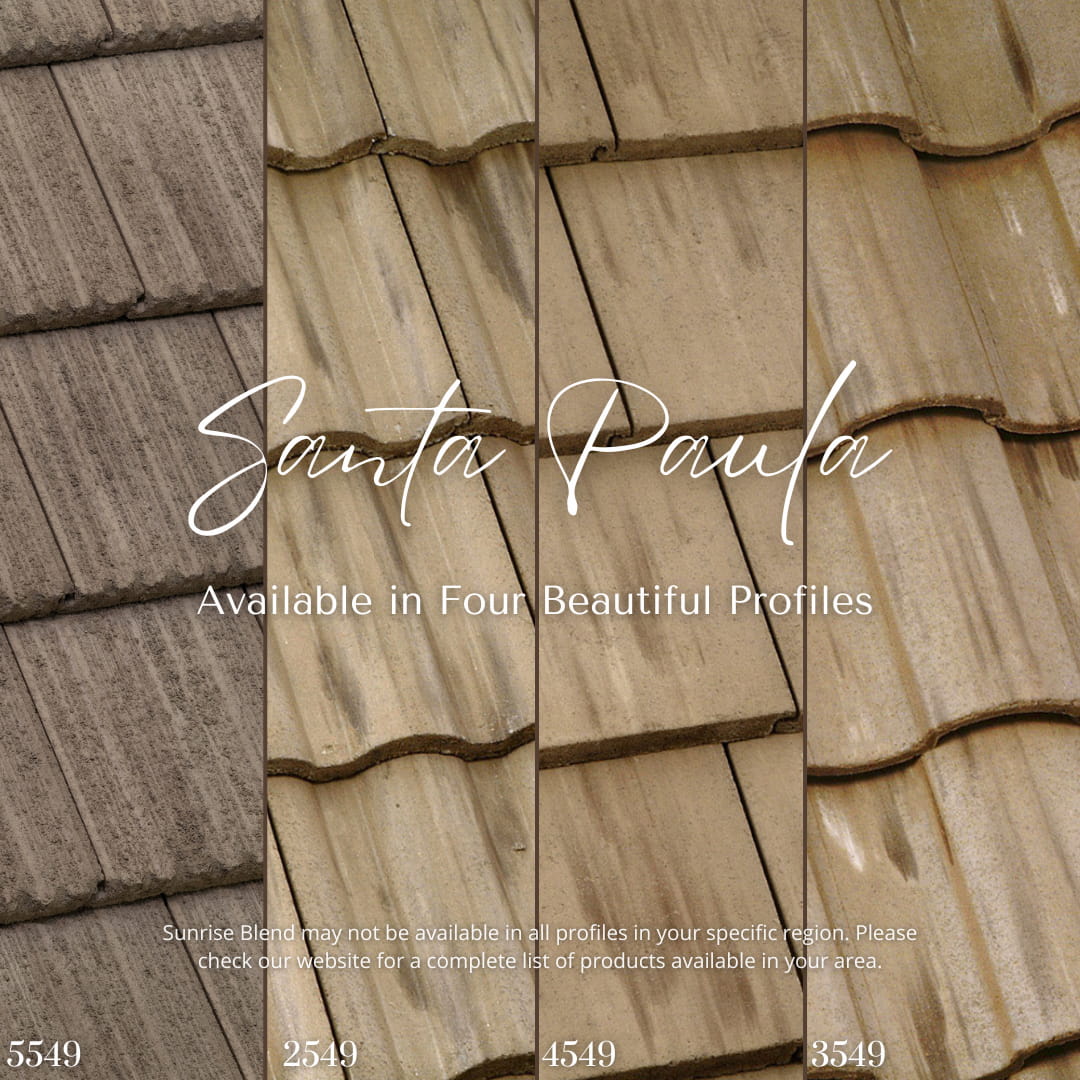 Design Trends and Versatility
As design trends continue to evolve, shades of beige have become increasingly popular. With the sandy tans and warm browns of Santa Paula, there are endless possibilities to actualize a peaceful, paradisiacal aura. Transform the roofscape of any home or commercial property into a focal point of comforting energy with the simplicity and restorative nature of this roof tile.
No matter which profile you choose, you are bound to create a serene abode. Our grand s-profile Capistrano and equally superb medium barrel profile Malibu are opulent companions to Mediterranean and Spanish style homes. To emulate a rustic vibe, go with Ponderosa for an alluring imitation of wood shake. If you prefer a smooth, refined look, our svelte Bel Air profile is sublime on Modern and Contemporary buildings.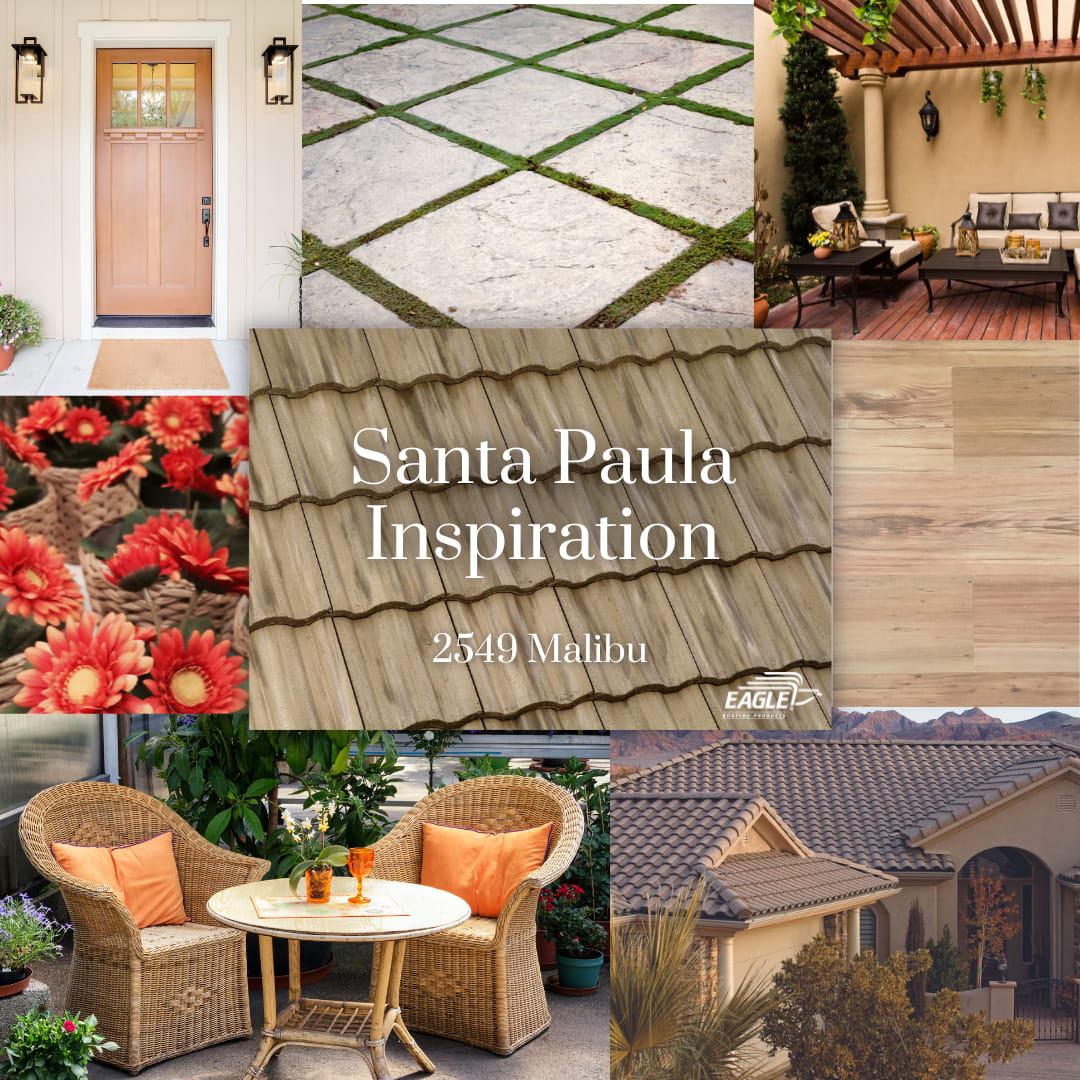 Color Exploration
Reminiscent of desolate dunes found in the Sahara Desert, Santa Paula pairs gracefully with neutral and warm palettes. Go bold with reds and oranges inspired by the blooming flowers of springtime and blazing sand dunes. Embrace tans and creams in the same color spectrum for a softer look. To help you envision this charming concrete tile roof on your home or commercial structure, we included two beautiful exterior schemes below.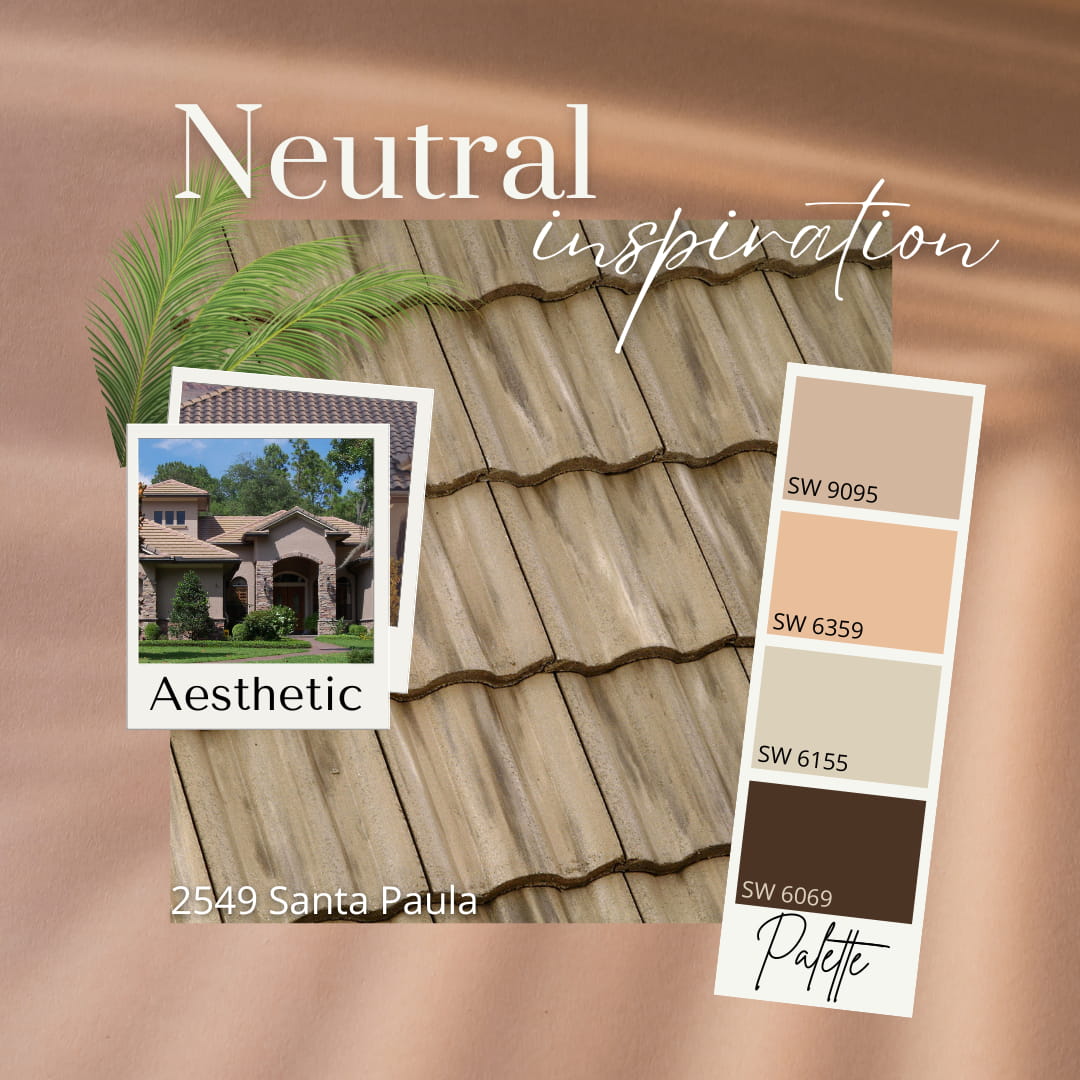 A classic, soothing monochromatic palette with Sherwin-Williams 9095 Ginger Root as your base is an exquisite pick. Such a relaxing buff hue incites elegance and pairs tastefully with this light neutral roof tile. Another option is to darken your façade with a toasty brown like Sherwin-Williams 6069 French Roast. Add brightness to the trim around your windows and doors with the khaki tones of Sherwin-Williams 6155 Rice Grain. Lastly, pull together the overall look with the brilliance of the peach undertones found in Sherwin-Williams 6359 Sociable for your entryway and outside decor.
To showcase a bolder presence inspired by flowery reds and burnt orange dunes, consider pairing Santa Paula with a beige base and pops of vivid paints. Complementing the warmth in the roof tile, the creamy blonde Sherwin-Williams 6652 Flan will provide an excellent foundation to build upon. Utilize the taupe, harmonious tones of Sherwin- Williams 6120 Believable Buff for the trim. Evocative of dazzling heat in warm climates, Sherwin-Williams 6657 Amber Wave or Sherwin-Williams 6881 Cayenne are both incredible choices for your front door, garage door, or decorative elements. From pillows to pots to even lighting fixtures, you can incorporate these colorful shades appealingly.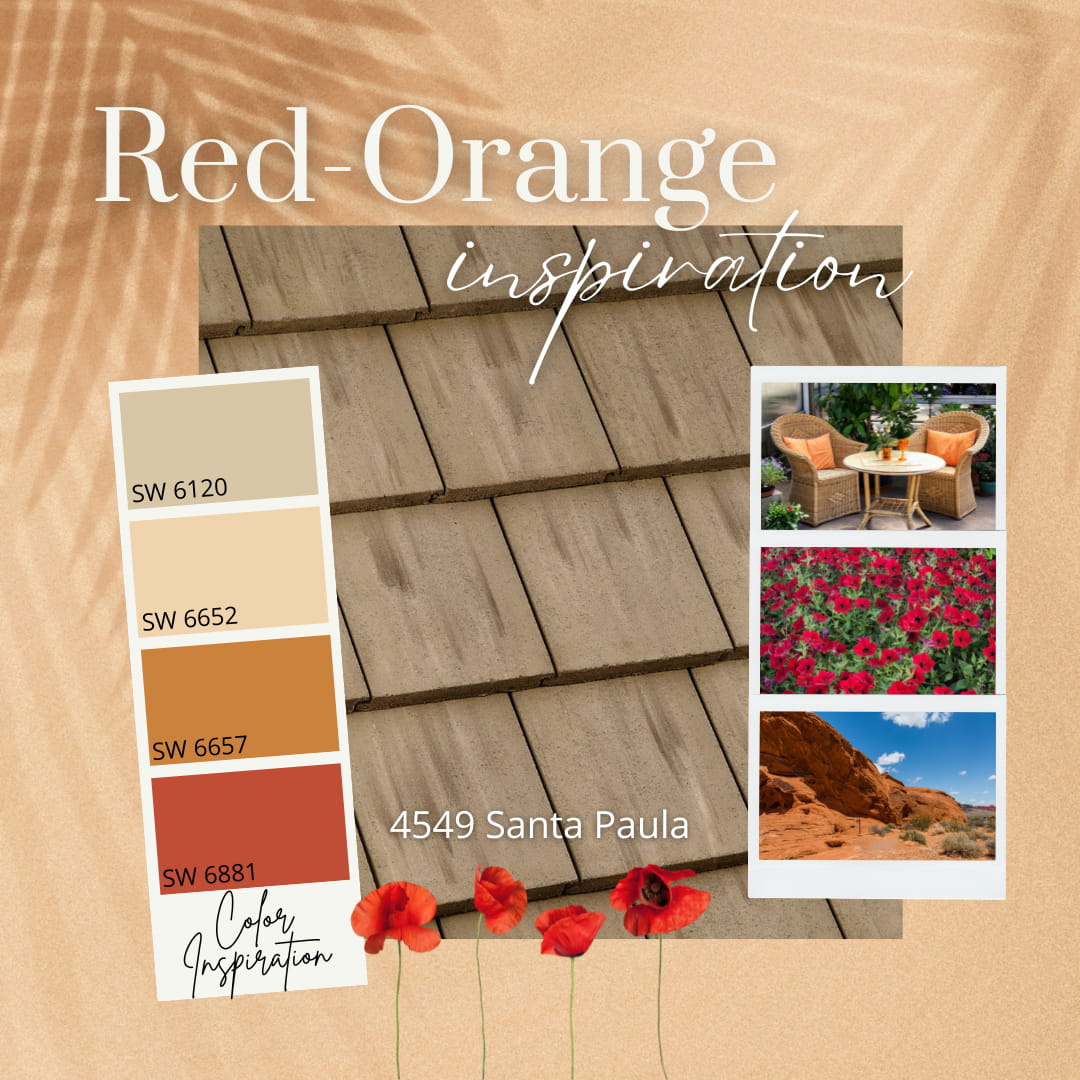 There are countless ways to beautify your structure with an Eagle Santa Paula concrete tile roof. Dreamy and tranquil, it is an impeccable option for any residential or commercial property.
For More Information or to Request a FREE Sample
More Style Inspiration