With the hot and sunny season of summer just around the corner, those annual BBQs and pool parties will soon be underway. But before the fun can begin, you'll want to make sure your home is in tip-top shape for friends and family to visit – starting with your roof.
After the wet, rainy season of spring, you may notice what appears to be black or green streaks on your concrete tile roof. This is mildew and/or algae growth, which is completely normal and in no way affects the integrity of your roof. The mildew and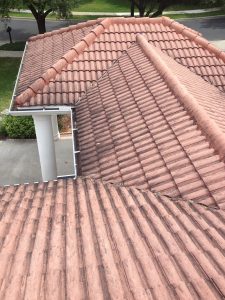 algae do not grow directly on the roof tile. The growth is actually caused by the amassing of dust and other organic materials that settle on the tile's surface. When moisture and sunlight are present, algae and mildew spores may begin to form. Many variables play a role in the growth of mildew and algae including the location of the structure, exposure to the sun, exposure to dew, surrounding trees and bodies of water.
Mildew and algae growth may occur at any time during the life of the roof. The environmental factors mentioned above will contribute to its presence, or reemergence on a previously cleaned roof. Fortunately, mildew and algae can be easily removed or treated without compromising the durability of the concrete tile. If you decide to have your tile roof cleaned, it is recommended that you hire an insured and bonded roofing contractor to do so.
Also, be sure to have your roof inspected for any broken, cracked or missing roof tiles. It is important to have these areas of concern inspected by a professional to prevent a more serious issue from occurring such as roof leaks, water damage, or rodent intrusion. 
Once your roof is cleaned and weatherproofed, it's time to bring out the iced lemonade, get those burgers on the grill, and enjoy the sunny weather!
For more information regarding tile roof maintenance, take a look at Eagle's Quick Facts guide, or contact your local Eagle Account Representative.