Not only are concrete tile roofs sustainable and aesthetically stunning; they are also extremely durable.  In fact, when properly installed, they have been known to outlast the life of the structure they are installed on. Here are a few recommendations on how you can increase the lifespan of your concrete tile roof and reduce the chance of a reroof in the near future.
Minimal Roof Traffic
While walking on your tile roof is sometimes necessary for seasonal inspections and cleanings, roof traffic should be kept to a minimum. To reduce the chance of damaging roof tiles and to avoid inherent danger associated with walking on a roof, it is suggested that you hire a licensed and bonded roofing contractor to do the job.
If you choose to perform the task yourself, be sure to step at the bottom three inches of the installed tile when walking along your roof. This section is supported by the lapped tile beneath it and the weight is then transferred to the deck below.
Repair Broken Tiles
If you happen to notice any broken roof tiles, they should be replaced as soon as possible. If not repaired, these areas can act as potential points of entry for animals and allow for water to penetrate the underlying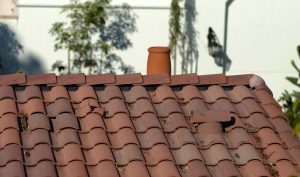 layers of the roof, creating water spots and leakage. Failure to fix the tile can lead to even further damage and potentially result in an entire roof replacement. It's important to note that industry experts with the Tile Roofing Institute strongly advise that you contact a professional roofing contractor to repair broken tiles.
Careful Cleaning
Many of the regions where concrete tile roofs are prevalent are susceptible to mildew and/or algae growth due to prevailing environmental conditions. While this does not affect the integrity of the tile whatsoever, it can affect your home's curb appeal.
In order to properly rid your tile roof of dirt, algae or mildew, a pressure cleaner set at a maximum of 1200 psi should be used. The tip of the nozzle on the pressure cleaner should be kept approximately 12 to 24 inches from the surface of the tile. Limiting the pressure and maintaining a safe distance from the surface of the tile is intended to prevent any damage. The addition of a mildew inhibiting solution should be limited to a 90 percent water, 10 percent solution ratio.  Be sure to also clean the valleys and sidewalls of the roof as debris often collects in these areas. It is strongly recommended that a licensed and insured professional roofing contractor or cleaning company be used.
If you're ready to extend the life of your concrete tile roof and would like to have your roof inspected for broken tiles or properly cleaned, visit the Tile Roofing Institute to find a certified tile roofing professional in your area.
For additional questions or concerns regarding your concrete tile roof, please contact your local Eagle Account Representative.