No matter which region of the United States or Canada you reside in, your home or property is subjected to some form of inclement weather. That's why concrete roof tile manufacturers, such as Eagle Roofing Products, manufacture a roofing material that is constantly tested to exceed expectations and industry requirements, providing lifetime protection to the structure it covers.
When it comes to fire, which is an issue that many dry regions are prone to, concrete roof tiles have been proven to be safer than traditional roofing materials, like asphalt shingles, wood shake or metal.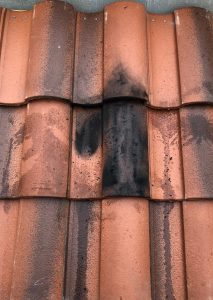 They possess the highest resistance rating possible – Class A – and can withstand temperatures of 1400°F ± 50°F without the spread of flames, as shown in the photo after a fire resistance test was conducted. Concrete tile roofs also facilitate air circulation under the tile, which reduces heat transfer to the attic during a fire.
While they are most prevalent in the sunbelt region of the U.S., concrete roof tiles are a prime choice for structures in cold or high freeze-thaw cycling areas. Unlike more porous roofing materials like asphalt shingles, concrete roof tiles, are not susceptible to moisture freezing within the body of the tile (excludes slurry/color bonded tiles). In addition, when the system is installed and ventilated correctly, ice-damming and tile expansion and contraction, which can occur with changes in temperature, is minimized.
They are the ideal roofing option for regions that experience hurricanes and severe storms as well. In fact, they have been tested to sustain wind speeds of up to 180 miles per hour when installed properly, depending on the manufacturer. Their design and construction provide high air permeability, helping to relieve wind stress. As for hail storms, concrete roof tiles can resist damage from hailstones larger than the size of a golf ball without cracking or breaking on impact.
If you're in the market for a new roof, regardless of which region you reside in or what harsh weather conditions you may face, a properly installed concrete tile roof is sure to deliver the protection and peace of mind that few other roofing systems can provide.
For more information regarding concrete tile roofs and Eagle Roofing Products, visit www.eagleroofing.com or contact your local Eagle Account Representative.