Concrete tile roofs are sustainable, aesthetically stunning and extremely durable, providing years of protection to homes they're installed upon. Throughout the years, however, homeowners may notice a buildup of algae, mold and mildew. This is typical of all natural materials and, while these types of biological pollutants are not harmful to the integrity of the tile, some homeowners may consider their appearance less than desirable. Fortunately, concrete tile roofs are exceedingly cleanable.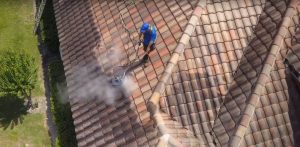 If you decide it is time to have your tile roof cleaned, it is recommended that you use only water with the water pressure never exceeding 1200 pounds per square inch (psi). Depending upon how dirty a roof appears and what pollutant is on the roof, it may be necessary to use a cleaner in conjunction with the pressurized water, but only in the most diluted solution possible. Additionally, the cleaner should be compatible with concrete as there are products that can affect the PH of the tile or even etch the surface.
While the cleaning process is seemingly straightforward, it is recommended your concrete tile roof be cleaned by a licensed, bonded and insured roofing contractor that has experience with tile roofs. Walking on a roof can be difficult and dangerous and introducing water only heightens these concerns.  A confident professional will always wear fall protection and take the proper safety precautions necessary while performing the job. They also understand how to move about the roof in a way to prevent damage to the roof tile and can confidently determine the best method of cleaning.
If you're ready to return your concrete tile roof to its original aesthetic brilliance, visit the Tile Roofing Institute Alliance to find a certified tile roofing professional that provides cleaning services in your area.
For additional questions or concerns regarding your concrete tile roof, please contact your local Eagle Account Representative.