Your home's architectural style can tell you a lot, especially when doing updates and renovations. It provides cues as to what concrete roof tile you should choose for your reroof, color families to stay within when repainting, and even the type of landscaping that would suit your home best.
For instance, if your home's exterior includes an s-shaped barrel tile roof – such as Eagle's Capistrano concrete roof tile profile –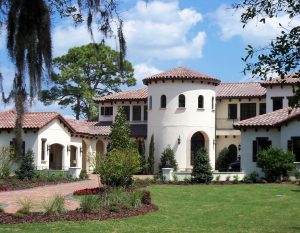 a stucco finish, arches and wrought-iron details, it most resembles Spanish style architecture. Lush green trees, such as the palm or Italian cypress, would be an ideal landscaping choice to provide a frame for the entryway and add contrast to this style's often pale toned walls. A water feature within the courtyard, garden or backyard is also a common element.
If your home displays clean, geometric lines with heavy accents of glass or steel and has a concrete tile roof similar to Eagle Roofing Products' Bel Air profile, it could be considered as a Modern or Contemporary style of home. Continue the simplistic feel with the landscaping and keep those clean, modern lines exposed by using minimal plantings throughout. Plants should be used symmetrically and are meant to soften the hard edges of architecture and add a pop of color.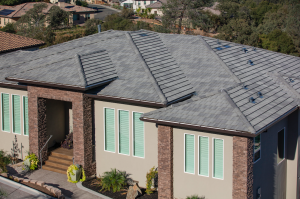 For more timeless landscape designs to match your specific exterior style, check out this HGTV article.
To begin browsing Eagle's extensive concrete roof tile offering for an upcoming project or for more exterior inspiration, visit www.eagleroofing.com.