Since the company's founding in 1989, Eagle Roofing Products has provided customers with durable roofing solutions that are beautiful, long-lasting and environmentally friendly – particularly concrete roof tiles.
While they are often thought of as just round and red, Eagle offers a diverse selection of concrete roof tiles to customers with close to 150 color options. From monochromatic hues, to light and dark ranges, to multi-colored blends, selecting concrete roof tiles as your material of choice makes it easy to coordinate your roof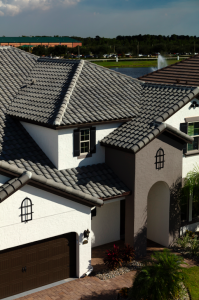 with any exterior color palette. Various profiles are also offered to emulate other natural roofing materials, such as clay, slate and wood shake. Vibrant and diverse, Eagle's tile pairs well with Spanish and Mediterranean style buildings in addition to Colonial, Craftsman and Contemporary architecture.
Not only do Eagle tiles meet any design need, but they provide proven durability and unrivaled protection as well. Eagle's roofing products are thoroughly tested to the highest of industry standards to provide superior performance and reliability against weather elements. They are Class A fire tested and, in most cases, can meet up to a Class 4 hail rating. When properly installed, they can even withstand sustained windspeeds up to 180mph. In addition, concrete roof tiles have the lowest lifecycle cost of any other roofing material, proven to last upwards of 75 years.
Concrete roof tiles also have inherent thermally insulative properties, allowing for the reduction in heat gain in warmer climates and reducing heat loss in cooler climates. This adds to the product's energy efficiency and can be enhanced through the specification of "cool roof colors". Eagle offers many Cool Roof Rating Council (CRRC) approved products that are highly-reflective, improving the tile's intrinsic energy benefits by reflecting the sun's rays more effectively and lessening heat transfer even more efficiently. These attributes aid in the decline of global warming, urban heat island effects, smog and the production of CO2. Not to mention they are produced using all-natural materials without the worry of depleting limited natural resources, are fully recyclable and do not contain chemical preservatives.
If you're in the market for a new roof, choose a material that can withstand the tests of time and remain aesthetically stunning all while doing some good for the environment; choose an Eagle concrete tile roof!
Learn more about Eagle, concrete roof tile and browse the full collection online by visiting www.eagleroofing.com.