It is well known that concrete tile roofs are among the most sustainable, aesthetically stunning and extremely durable roofing options to choose from, providing years of protection to homes they're installed upon. Like any roofing system, however, a concrete tile roof must be properly maintained in order to reach its maximum life expectancy. Here are some tips on how to do so!
Inspections
To ensure your concrete tile roof is performing to its upmost potential, annual roof inspections are recommended. It is advised that you hire a licensed and certified roofing contractor to perform a thorough roof inspection of both the outside and inside of the roofline, such as the attic. This will allow them to check for underlying issues with the underlayment and possible leaks. The contractor can then provide a detailed report on the status of your roof, including life expectancy and estimates for necessary repairs.
Repairs
If you have a concrete tile roof currently installed, it is important to note that minor repairs may need to be performed to ensure your home remains properly protected. Tiles can break, crack, or chip due to inclement weather or improper foot traffic. Often times, it can be difficult to spot broken tiles from ground level. If they go unnoticed or unfixed, bigger issues within the roofing system may arise. In order to ensure these troublesome areas are caught early and repaired, be sure to schedule your annual roof inspection.
Cleaning
Throughout the years, you may notice a buildup of algae, mold and mildew on your tile roof. This is typical of all-natural materials and, while these types of biological pollutants are not harmful to the integrity of the tile, some homeowners may consider their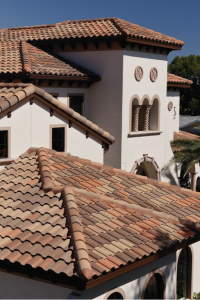 appearance less than desirable. If you decide it is time to have your tile roof cleaned, it is recommended that you use only water with the water pressure never exceeding 1200 pounds per square inch (psi) with addition of a cleaner, depending on how dirty the roof appears. Walking on a roof can be difficult and dangerous and introducing water only heightens these concerns, so it is recommended your concrete tile roof be cleaned by a licensed, bonded and insured roofing contractor that has experience with tile roofs.
To get started on your concrete tile roof's routine maintenance, visit the Tile Roofing Industry Alliance to find a certified tile roofing professional that provides inspection and cleaning services in your area.
For additional questions or concerns regarding your concrete tile roof, please contact your local Eagle Account Representative.