The Tile Roofing Industry (TRI) Alliance, a respected partner of Eagle Roofing Products and other roof tile manufacturers, is a non-profit association of producers and associates of concrete and clay tile that has served as the primary voice for the tile roofing industry since its founding in 1971.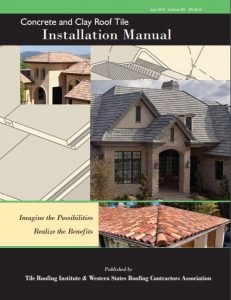 Among the many efforts and resources the organization provides, the TRI Alliance develops industry-based series installation guides for all climatic regions and offers certification programs on these manuals for professional roofing contractors.
The TRI Alliance's Installation Manual Certification Program is a one-day course designed to provide training on how to install tile roofs in compliance with current code requirements. It is targeted towards entry level roofers and more experienced roofers of other materials, such as asphalt shingles, who want to expand their skill into tile.
Here are 10 reasons why roofing contractors should consider enrolling in a TRI Alliance Installation Manual Certification Program and become certified on the TRI Alliance Installation Manual:
Learn how to meet or exceed industry guidelines.
What you learn will help you reduce or eliminate costly call backs.
TRI Alliance promotes certified tile roofing installers in its literature, website and videos. If you pass the multiple-choice test, you can also market your knowledge using the TRI Alliance Certification logo on your website and marketing materials.
Many TRI Alliance manufacturer members promote using a certified installer to the general public.
Today's consumers are more sophisticated and demanding. They expect trades people, including tile roofing installers, to have trade certifications.
Design professionals specify installation by TRI Alliance Certified tile roof installers.
Professional instructors will show you how to increase your bottom line through greater efficiency.
TRI Alliance has developed guidelines to help installers rate their company's performance in all areas, such as workmanship, efficiency, best practices and code compliance.
Adherence to TRI Alliance guidelines means you have the weight of industry-based recommendations on your side in the event of a dispute.
Demonstrate to your customers that you are installing tile roof systems consistent with industry guidelines in order to support your pricing and explain the value of proposed upgrades.
View the latest training schedule to find a TRI Alliance Concrete and Clay Tile Installation Manual Certification class near you.