If you're in the market for a new roof, you've probably noticed there are many options to choose from when it comes to selecting the primary roofing material. To make your selection process easier, here's three reasons why a concrete tile roof should be your first choice.
Performance
Concrete roof tiles are produced through the careful combination of four natural products – sand, cement, water and iron oxide. These ingredients make them incredibly resilient, withstanding the harshest of weather elements. This can include fire, hurricane-force windspeeds, hail and freeze-thaw temperatures, depending on the manufacturer. When installed correctly, concrete roof tiles are also one of the only roofing materials that will last as long as the structure they're installed upon.
Efficiency
Due to the way they are manufactured, concrete roof tiles are extremely dense. This leads to high thermal mass, which represents the ability of a material to absorb and store heat energy. So, during summer months, the tiles absorb heat, keeping the house comfortable. In winter, the same thermal mass can store the heat from the sun to release it at night and help the home stay warm. In addition, independent testing performed at the Department of Energy's Oak Ridge National Laboratory demonstrated that roof tiles have the ability to cut the transfer of heat by up to 50% when compared to other roofing materials, like asphalt shingles.
Versatility
Unlike other roofing materials, concrete roof tiles have the ability to be molded into a beautiful and timeless silhouette. They are manufactured in an assortment of barrel and flat shaped profiles that will perfectly complement both traditional and contemporary architectural styles.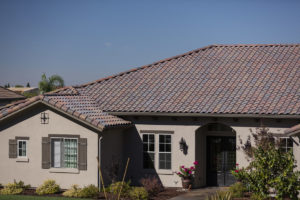 Concrete roof tiles are also offered in a vast selection of hues including deep terracottas, warm browns, cool grays; even vibrant corals and radiant golds. Manufacturers, such as Eagle Roofing Products, have 10 different profiles and over 150 color options to choose from. With unmatched durability, inherent energy efficient properties and the ability to meet any architectural demand, a concrete tile roof is the ultimate choice for your reroofing project. For more information regarding concrete tile roofs and Eagle Roofing Products, visit the Why Tile? page or contact your local Eagle Account Representative.