We're all familiar with the term "April showers," but have you ever stopped to think about how well your roof can withstand them? Or any other inclement weather, for that matter? With hurricane season approaching, it's more important than ever to make sure your home or business is safe and secure. And we're here to help. When tested against the elements, concrete roof tiles have consistently exceeded industry expectations and requirements, offering a lifetime of protection to the buildings they cover.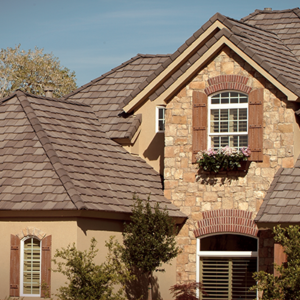 The tiles themselves have two built-in layers of protection, including a tough, water-shedding outer shell. And when properly installed, they can sustain wind speeds of up to 180 miles per hour, making them ideal for areas that experience hurricanes and heavy storms. In addition, their design creates high air permeability (which relieves wind stress) and they can resist damage from hail stones (even those larger than a golf ball) without cracking or breaking on impact. 
On the opposite spectrum, if you live in a dry area that's susceptible to fires, you can be confident knowing concrete roof tiles have the highest resistance rating possible (Class A) and can withstand temperatures up to 1400°F ± 50°F without the spread of flames. Concrete tile roofs also facilitate air circulation under the tile, which reduces heat transfer to the attic in the event of a fire. 
And if you live somewhere that can reach freezing temperatures, we've got that covered, too. Unlike more porous materials (like asphalt shingles), moisture can't penetrate and freeze within the body of most concrete roof tiles. Plus, things like ice-damming and tile expansion and contraction, which occur due to temperature changes, are minimized with proper installation and ventilation. 
Whether your region is prone to rain, wind, snow or fire, concrete roof tiles have been proven to stand up to the elements time and time again. So you can rest assured that when you choose Eagle, you're choosing peace of mind.