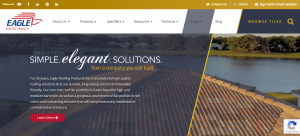 Here at Eagle, we're consistently keeping up with the latest themes and trends within the roofing world, which is why we're excited to announce the launch of our new website! The goal in revamping our online portal was to create a more user-friendly platform to better serve you, our customers.
We take pride in the relationships we build, so whether you're in the market for a new concrete tile roof or just browsing design ideas, we'll be there every step of the way. And what better place to start than online, where you have access to all new information and website features, including:
An Updated Design
One of our objectives in refurbishing our web design was to aim for a bright, crisp look and feel. One sleek and modern feature to the site includes an updated and robust portfolio of concrete roof tile beauty shots. These new attributes contain large and responsive Hero images alongside well formatted content including enhanced product descriptions, engaging videos, and clean navigation to highlight and categorize all the tools and resources available for our customers. In addition to these modified web pages, we've completely restructured the Eagle blog portal. Each entry is broken down by category, those including Eagle News, Design Corner, FAQs, and more. Not every facet is changing though; our Design Corner blog is still every third Thursday of the month and can be found under its corresponding tab.
Enhanced Functionality
Not only is our new design current and eye-catching, but we've made search options easier with amplified functionality of the site. Introducing a redesigned navigation bar allows for better product and resource placement, including an area dedicated to specifiers, for effortless wayfinding throughout the site. We've also proposed a more user-friendly Browse Tile section with enhanced filters, larger images and detailed product specifications pages. The site is optimized for performance and speed for both mobile and desktop computers.
More Knowledge
With any redesigned website comes a plethora of new information. We've incorporated an expanded product line as well as brand new pages highlighting essential roofing components to further your knowledge as a consumer. This includes robust detail on the features and benefits of concrete roof tile, specialty installations, continuing education, and a comprehensive FAQ section.
Visit our new website to check out our latest updates, Browse Tile selections, order samples, or contact  your local Eagle Account Representative.