With Autumn comes transformation, cooler weather and enchantment. Deemed 'Fall' for a reason, leaves are changing during this crisp season and perhaps landing on your roofscape alongside dirt, mold, mildew, algae, bacteria or any other debris. While none of these impurities will affect the durability, longevity or energy efficiency of your roof, some homeowners may consider their appearance less than desirable. Consider the following when getting ready for fall and explore how to properly clean your concrete tile roof in preparation for the season of revitalization.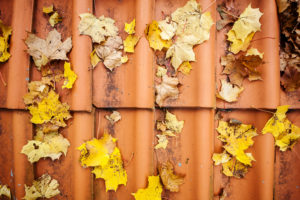 Concrete roof tiles are easily cleanable with the right tools and the process is pretty straightforward, however working on any roof can be dangerous, so we highly suggest hiring a licensed, bonded and insured roofing contractor as they have the proper experience and will conventionally follow all necessary safety precautions. A professional will first inspect your roof in order to make any repairs and tend to the recommended maintenance of the structure. If they are walking on a steep-sloped roof pitch, ensure they utilize a fall restraint apparatus when cleaning and working on your roof for their own well-being and so as not to damage the tiles.
When cleaning the surface, specialists may use a high-pressure power washer sprayer or "Man Lift" to polish the roofscape. It is recommended to only use water when cleansing the crown of the home and pressure should not exceed 1200 psi. Chemicals should be utilized sparingly to avoid damage but depending on how dirty or what pollutant is on the roof, a cleaner might be necessary alongside the pressurized water. However, the spraying application must be done in such a way to not harm the roof as certain products on the market can change the PH of the tile, thus disfiguring its inherent appearance. We urge making use of the most diluted solution possible that will be compatible with concrete.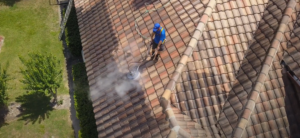 Whether you're a homeowner looking to enhance curb appeal or a roofer gearing up for the fall season, a thorough cleaning will rejuvenate and replenish the beauty that is Eagle concrete roof tile.
For more information on how to properly clean your concrete tile roof, visit our website at
eagleroofing.com
!