The holidays are nearly here and with them comes the cold and frosty weather we know all too well. It's always a good rule of thumb to make sure your home, especially your concrete tile roof, is in its best condition to not only keep you and your loved ones warm but also safe this winter season.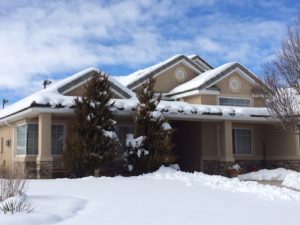 First and foremost, we recommend hiring a bonded, licensed, and insured roofing professional to inspect the durability and integrity of your roofscape for any signs of unexpected wear and tear. These troubling areas may include broken or cracked concrete tiles, improper roof flashings around the valleys, vents or chimney, water intrusion in the attic or a damaged underlayment.
With colder temperatures comes freezing precipitation so it is imperative to survey your property and trim any tree limbs hanging over your roof. Snow and ice can accumulate on these branches causing them to become too heavy to sustain themselves and snap during strong winds potentially damaging your concrete tile roof.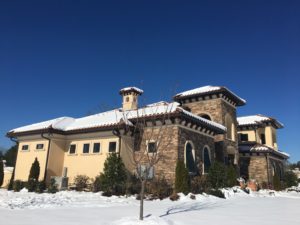 Often overlooked, cleaning gutters and downspouts is another great preventative measure to complete this solstice season. Vegetation will begin shedding their leaves and boughs so ensure all gutters are empty so rainwater and melting snow can drain easily. Blocked drainage systems can cause water to spill onto your rooftop, refreeze and create ice dams, causing serious damage to the roof deck and roofscape.
With the above preventative maintenance completed, you and your family can rest assured knowing your Eagle concrete tile roof will keep you safe, warm and cozy all season long.
For more information on tile roof maintenance year-round, visit our website at https://eagleroofing.eagl.staging.findsomewinmore.com or contact your local Eagle Account Representative today.