Celebrate the New Year by selecting a concrete tile roof as your next roofing material for your residential or commercial project! Whether you're looking to reroof an existing structure or build a new development, Eagle concrete roof tile is the ideal choice thanks to its enhanced curb appeal, superior durability and high energy efficiency.
Curb Appeal and Versatility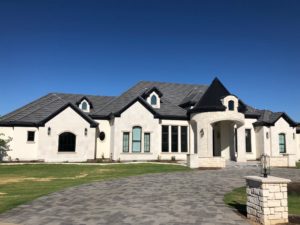 With several profiles and over 150 colors to pick from, Eagle Roofing Products offers the largest variety of shades and shapes in the industry, perfect for any building style. Our offerings range from Italianate S-shape barrel tile to smooth yet modern flat tiles to emulated wood shake. The versatility that our profiles provide easily complement anything from Tuscan and Ranch-inspired homes to Mediterranean office complexes to coastal Bungalows and more. Thanks to the luxurious image our meticulously designed products portray, an Eagle concrete tile roof will greatly enhance the overall curb appeal of your home or commercial building.
Durability
At Eagle, we voice that "our weight is our strength" thanks to the raw materials that make up concrete roof tile, those being sand, cement, water and oxide (pigment). These natural ingredients make the tile dense and heavy, creating a highly durable roofing material that can withstand extreme weather when compared to traditional roofing products, such as asphalt shingles.

Not only will a concrete tile roof provide superior protection, but our products are machined to last the life of the structure it is installed on with proper maintenance.
Energy Efficiency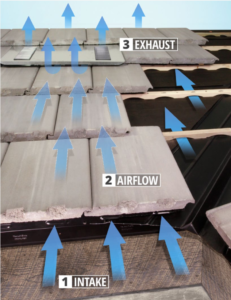 As mentioned above, concrete tile is made from all-natural materials, meaning they can be recycled once they complete their lifecycle as a roofing product. In addition to being sustainable, concrete tile is also inherently energy efficient. Once installed, the tile's high thermal mass absorbs and stores heat during the day and slowly releases it during the night. This helps keep your home or office cooler throughout the summer and warmer in the winter months, and in turn, reduces your overall heating and cooling costs.
If you're looking for even greater efficiency, Eagle offers the Ventilated Roof System. This installation method is composed of three main components, those being Ventilated Eave Closures, Arched Battens and O'Hagin Vents. The Ventilated Eave Closure allows air to enter the roof system and the Arched Battens facilitate the airflow underneath the tile. O'Hagin Vents properly exhaust the moving air thus preventing it from becoming trapped and entering the attic. Whether you're interested in adorning your roof with the most energy efficient roofing material or wanting the most sustainable product, concrete tile is the clear option.
Choosing an Eagle tile roof is an easy choice thanks to the tile's energy efficient properties, durability and enhanced curb appeal. To learn more about why concrete roof tile is the superior choice for your next venture, contact the Eagle Account Representative nearest you!