If you've recently purchased a brand new Eagle concrete tile roof and are considering incorporating solar panels to enhance your sustainable roofing system, it's important to understand the benefits of each before we dive into how the two can work together.
Concrete roof tiles themselves are manufactured using raw, natural materials consisting of sand, cement, water and oxide. Dense and heavy, the tile's high thermal mass allows them to absorb and store heat during the day, delaying the transfer of it into your structure. This provides an energy savings by helping reduce the demand on heating and cooling systems, maintaining comfortable temperatures inside year-round.
In addition, concrete is inherently energy efficient as its cement composition makes the tile a naturally reflective product. Concrete roof tile is also individually installed which provides a thermal barrier or air gap between the tile and the roof surface below, permitting air movement and furthering the reduction of heat flow into the living space below. This high solar reflectivity and reduced heat transfer can go hand-in-hand with what solar panels aim to accomplish.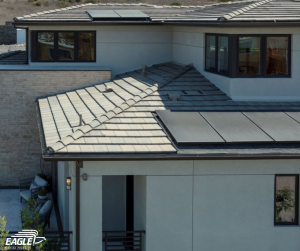 So how do solar panels work and what's their purpose? EnergySage.com explains that when sunlight hits a solar panel, it initiates a flow of electricity, known as a Direct Current or 'DC' electricity. To create usable electricity for the home, the solar power then must travel to an inverter generator which converts the DC into Alternating Current or 'AC' electricity. If your solar panels create more electricity than you need, you can send the extra energy back to the grid as most utility companies will provide credits to use on a future bill. This ensures you are creating clean, renewable energy while keeping costs low.
Both of these commodities are a long-term investment, so to maximize energy cost savings and aid in environmental responsibility, installing solar panels on top of a concrete tile roof can essentially get you the best of both worlds. Despite initial installation costs, you will save money on utility bills while conserving energy and keeping the structure cool in the summer months or warm during the winter. In addition, concrete roof tiles are one of the most durable and long-lasting roofing materials that you can have beneath solar panels. Asphalt shingles, for instance, are known to deteriorate over time with a lifespan of about 10-15 years, which means your solar panels will last longer than the shingles! Plus, you will need to factor in a costly roof replacement and solar panel removal and re-installation in the future. Thus, with tile and solar you are getting the best bang for your buck. Thus, with tile and solar you are getting the best bang for your buck.
While the panels aren't a necessary addition to your concrete tile roof, it never hurts to get a second opinion from a technical professional to see if solar is right for you. Regardless of your decision, you can rest assured that an Eagle concrete tile roof will help reduce your carbon footprint for years to come. To learn more about the benefits of concrete roof tile, visit our website at eagleroofing.com or contact your local Eagle Account Representative!