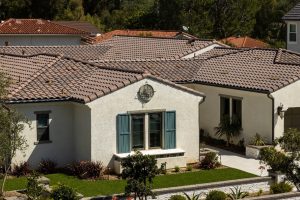 Concrete roof tile comes in many styles, each with its intrinsic beauty and design aesthetic, but there is more to them than what meets the eye. The distinctive and desirable appearance of a tile roofscape comes with the great advantage of durability and longevity.
Purchasing a new roof is a big investment, but by choosing concrete tile you can rest assured that your investment will last a lifetime. Most concrete roof tiles, such as those manufactured by Eagle Roofing Products, continuously produce excellent results against extreme weather conditions such as fire, wind, rain, earthquakes, and harsh winter freezing while having the lowest life cycle cost of any other roofing material.
Eagle concrete tile can last up to 75 years or the life of the structure it is on, with proper installation, quality materials, and preventative maintenance. Superior grade roof components consisting of the right underlayment, flashing and venting ideal to ensure you do not need to replace any part of your roof before expected. Another important step, as stated, is to have a yearly routine check by a licensed, bonded and insured roofing contractor, and especially after harsh weather conditions, to ensure no part of the roofscape is damaged.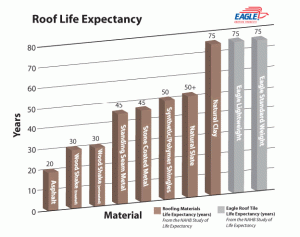 Durability is not the only advantage that concrete roof tiles have. They also enhance curb appeal, complement any architectural structure, save energy, and they are environmentally friendly.
Connect with your local Eagle Account Representative today to learn more about our products.