Roofing Re-Imagined with 
Jamie's Fall Favorites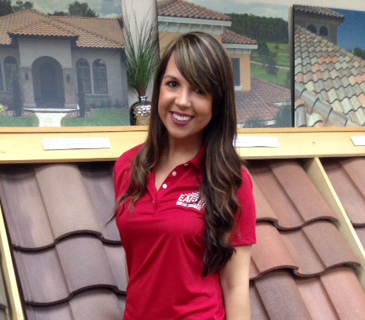 Welcome to Jamie's Design Corner where each month, Jamie Trotter – Eagle's Lead Design Center Coordinator/Trainer, will provide our customers with helpful tips and design inspiration on transforming your residential or commercial projects' exterior look.  Her goal?  To give you ideas that will create outstanding curb appeal. 
Fall is approaching and what could be better than pumpkin spiced lattes, chunky sweaters, and cooler weather? A brand new tile roof of course! When it comes to exterior design, it is best to coordinate color schemes that are going to be flexible year round. The best way to execute this is by choosing a blend for your roof that combines different shades of light and dark. If you are feeling bold, you can choose a blend that offers pops of color, creating endless opportunities for paint selections and seasonal decorations. For a better perspective on how you can transform your exterior, here are some of my favorites!
Malibu Walnut Creek Blend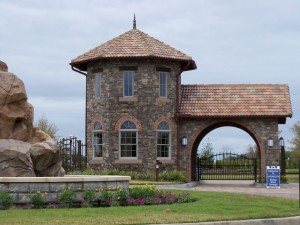 Mediterranean meets Contemporary, this blend provides a warm mix of earth tones that not only make it easy to coordinate your paint colors, but it satisfies the homeowner who wants to mix up different architectural styles.  The richness of this blend allows you to create paint schemes from different families. When it comes to color, it is important to remember the art of manipulation. You can make the deeper brown and tan tones of this blend stand out by creating a scheme that utilizes those same brown and tan undertones, such as a sage green or a brown that mimics your Starbucks latte' for the body of the home. Sherwin Williams Svelte Sage(SW6164) or Sawdust(SW6158) are a couple of examples. If you want the pop of terracotta in this blend to stand out, try using warmer tones of pale yellow to brighten it up. Convivial Yellow(SW 6393)  from Sherwin Williams is one of my favorites.
Capistrano Palm Beach Blend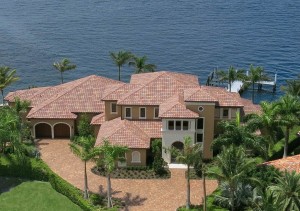 A classic spin off of your traditional Spanish-Mediterranean Style, the Palm Beach Blend offers shades of Eggplant, Gold, and Terracotta. This blend looks great with both warm and cool paint colors, depending on what draws your eye! You can continue to mix up your paint schemes to correlate with the parts of the blend that you want to stand out. When looking at paint colors keep in mind that warm colors will have a yellow base to it, representing the tones of the sun, cool colors will have a gray/blue base to them, representing the tones of the ocean, and earthy colors will have a brown/tan base to them, representing the elements of the earth such as trees, plants, and soil.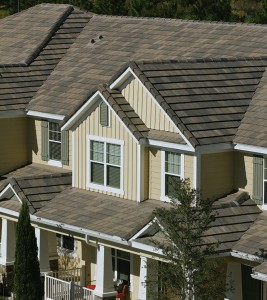 Bel Air Concord Blend
Gray is the new tan! Try something different by neutralizing your pallet using gray instead of tan. This blend works well because it allows you to transition from your old ways by complimenting the gray with light tan pieces, giving you even more options when it comes to coordinating paint!  You can still compliment your comfort zone by using a tan or off-white paint selection for your body color such as Sherwin Williams Believable Buff(SW 6120) or Moderate White(SW 6140).
The roof is the most permanent part of your home and it can be overwhelming to make a selection that works the best for you. Eagle Design Centers offer complimentary color consultations for our homeowners who want a hands on experience with a design professional. Our Design Center Coordinators can help you navigate through color and tile selection, creating the ultimate exterior package.  Visit your local design center and let us guide you through it!
Stay Creative!
Jamie Trotter, Lead Design Center Coordinator/Trainer